Update: Braden River won its regional tournament over Port Charlotte and Lake Gibson high schools, and is headed to the state tournament, which begins April 13. 
For real pirates, being cast away on a beach, away from familiar seas, would be a nightmare.
For the Braden River Pirates, the beach has become a second home, specifically beach volleyball courts.
This school year, Braden River became the first public school in Manatee County to offer the program. It's played through the Sunshine State Athletic Conference rather than the Florida High School Athletic Association. On March 21, the Pirates defeated Port Charlotte High 4-2 to take the Gulf Division crown.
The Pirates' transition from indoor volleyball, their version of familiar seas, was more difficult than fans might imagine, despite the rapid success. Some players, like senior Sydney Jaco and junior Arianna Osika, had plenty of experience playing beach volleyball, but most others on the team had little or none. Pirates coach Matthew McElhiney said the team basically had to re-learn the game of volleyball in two weeks of preseason practice.
The reason for the differences in play?
Sand causes players to sink. Jaco said it's harder for players to run, jump, dive and do all the other athletic feats associated with volleyball. So beach volleyball becomes more cerebral.
Played two against two instead of six against six, ball placement becomes key. Osika, for example, hits deep shots more frequently than she does during indoor play. Junior Samantha Drouin said it's important to read the other team and react quickly to where opponents plan on sending the ball. McElhiney said court movement is something his team still needs to improve. 
There are other factors too. Wind is not something players worry about indoors, but outside, it can have a large effect on serves. It's not something easily practiced, so players have to improvise and deal with it as it comes. On the day of the Pirates' division title match, winds fluctuated between 20 to 25 mph.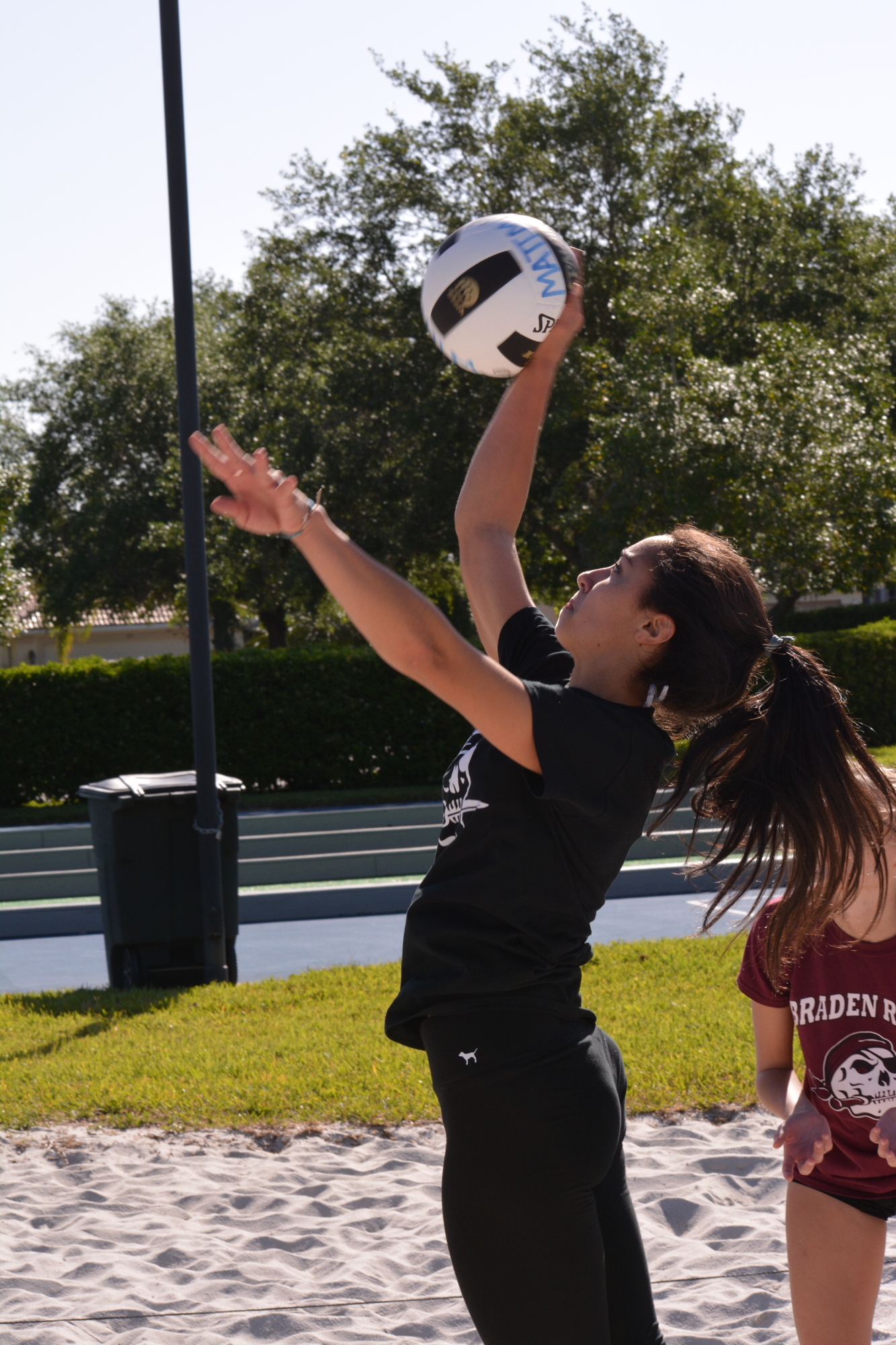 McElhiney told his players the season could be whatever they wanted, meaning it could either be a fun, not-too-serious excursion, or an all-in run at the playoffs.
After the team's first match, a 2-1 win against Cardinal Mooney High, the players discovered they were good at this whole beach thing, and decided to turn up the intensity.
"I'm pretty proud of us," Jaco said. "We weren't expecting it to be as serious at first, and we've gotten a lot better."
With the concept of beach volleyball now proven to work at Braden River, McElhiney wants to take it to the next level and install courts on campus. As of now, not many people at the school know beach volleyball is an option, but walking past the courts every day would make it impossible to ignore. Two connected courts would cost between $20,000 to $25,000, he said. An official campaign has not yet started, but McElhiney said it would take a combination of community and school support to make it happen.
McElhiney said the sport opens more college options for his players, with more colleges offering the sport every year. 
The team was scheduled to play its regional game April 4 at Bee Ridge Park in Sarasota. The winner would advance to the state tournament.
"Our first year as a program and we win (the division)," McElhiney said. "Nobody can take that away. It's kind of nice."