This week's episode was mainly centered around Juliette morphing into the worst villain MTV has ever seen, Alex continuing to be the bad guy even when we kind of forgot we hated him and Madisson continuing to fall for Brandon in the weirdest twist of events ever.
Episode 8 opens with narration from Greek God Garrett. When the Sarasota native says something about how he always knew there was money on Siesta Key, but didn't realize how much, our hearts melted a little bit because we, too, share his incredulous tone, even now.
In the opening scene, Alex meets Kelsey at work and asks her to go on a date with him to White Buffalo, a line dancing bar, instead of going to a party Chloe is throwing at her new apartment. Kelsey, not interested in seeing Garrett and causing tension, agrees.
In the next scene, Kelsey and Madisson are debriefing about the last episode, when Madisson's ex-boyfriend Grant was in town. Madisson expresses interest in giving herself time to develop a connection with Brandon, although we don't understand why, since they've been together for about five minutes and so far all she can say about him is "he handles my family really well." We thought "Siesta Key" was going to be about the summer they'd never forget, not about the summer of meeting your new significant other's family and it going alright.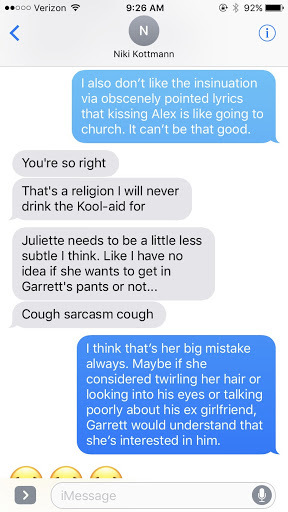 Also during that conversation, Madisson tells Kelsey that she doesn't owe Garrett protection from her budding romance with Alex, and Kelsey says she's "worried about the end of me and Garrett." This has been a blurred line for several episodes now — are Kelsey and Garrett over? Are they on a break? At what point did the relationship end? Let this serve as a reminder for us to clearly define the terms of our real-life relationships and not let everything fade away into ambiguity.
Garrett and his friend Caulin steal the show as they take their adorable dogs for a walk, and Garrett tells Caulin he still loves Kelsey, but "if she keeps doing things, it'll just show who she is as a person." Again, we're not sure if the two think they're still together or not. What exactly does he mean by "things"? The scene fades out to the tune of "Falling Out of Love" by Dashboard Confessional, which I guess is some indication.
Finally, the moment we've all been waiting for — Pauly is in JAIL! Like the previews suggested all those months ago! Alex goes to his father, Gary Kompothecras, and breaks the news to him. Gary looks it up online and finds that Pauly is facing charges for possession of marijuana and being held in contempt of court for apparently missing a court date (perhaps while the crew was in the Bahamas?). Gary decides to leave Pauly in jail overnight, after Alex guilts him into helping him since 27-year-old Pauly doesn't have parents to do it.
Next, Brandon takes Madisson to "his" studio and shows her his mediocre rap music. To her credit, Madisson tells Brandon exactly what she thinks is "very stereotypical," and shows her approval for what she thinks "feels like Brandon." Brandon doesn't look thrilled, especially when the conversation shifts to Grant asking Madisson to come to New York. Brandon is wiggling in his chair and covering his face with his hands, apparently afraid Madisson was going to end it. But instead she says he's part of the reason she is hesitant to make a move like that. And that's that! They live happily ever after! Because all great relationships start off with an otherwise smart girl telling a slimy guy she kind of likes kissing that she'll put her future on hold for him.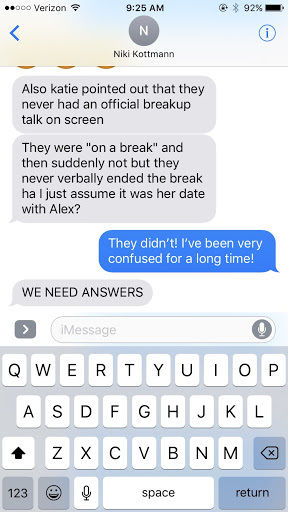 Gary bails Pauly out of jail and lectures him, appropriately. The highlight from Gary: "Life's hard. It's harder when you're stupid."
Alex FaceTimes Juliette and tells her he's going on a date with Kelsey, which in hindsight was a terrible idea considering how Juliette runs with the information straight to Garrett. She says she'd rather Alex not tell her that at all, and they hung up after about 15 seconds.
Chloe's party arrives at her very normal-looking apartment pool. In true Florida fashion, they get rained on a little bit, and Juliette begins throwing herself at Garrett while attempting to not get wet. Little does Garrett know that before the party in a conversation with Chloe and her new roommate about Kelsey and Alex's date, Juliette foreshadowed this with "Whatever, they can do what they want. I'm going after Garrett."
After talking to Garrett for t10 seconds though, it's obvious he's still hung up on Kelsey, and we think it's strange that Juliette doesn't seem to care about that. He talks about her constantly and tries to rationalize her actions, still, to his potential new love interest. But that doesn't deter Juliette. She tells him Kelsey and Alex are on a date, they get in an uncomfortable conversation about his abs and Garrett invites her to be in some of his workout videos. OK.
Also at the party, Madisson asks Brandon what his favorite memory is of the two of them, and he says their first date — because there are literally almost no other options, Madisson! She likes it though, and they make out in the pool.
Meanwhile, Alex and Kelsey go line dancing, which looks fun, but when Alex announces "I gotta urinate" and leaves Kelsey next to the dance floor, she sees him chatting up another blonde girl. Suddenly she remembers why everyone speaks so poorly about the King of Siesta Key.
Madisson and Kelsey debrief, and Madisson says she is happy to focus on Brandon. "It just felt right," she says, as we scream and throw popcorn at our TVs. Madisson also explains to Kelsey how Juliette was acting with Garrett, and Kelsey isn't thrilled. But again, we are like 75% sure they're broken up.
Chloe and Juliette go furniture/home décor shopping at SPARCC's Treasure Chest, a nicer-than-average consignment store (classic Sarasota), which is hilarious because Chloe allegedly only has a part-time job as a bartender to sustain herself, so we're not sure why she's spending her limited funds on more décor when she already has a plethora of elephant wall hangings. They talk again about Garrett, and Chloe says if Garrett ever found out Kelsey and Alex hooked up after the Gatsby gala (which I maintain is a tenuous accusation, not a fact, but who am I to judge?), he'd never talk to her again.
"Well he is going to find out, because I'm going to tell him," Juliette says. *Cue maniacal laughing and loud claps of thunder as she reveals her evil plan.*
On the beach, Juliette meets Garrett to film a workout video. That takes up very little time and soon the two are just sitting and talking.
Juliette asks Garrett on a date, and he says yes. Then she tells him Kelsey is lying to him and has been shady, and she knows that Alex and Kelsey hooked up "for sure." Garrett tries to rationalize it — he protests that they were still dating, that maybe she had to change her clothes or something. Juliette is relentless, telling him multiple people saw them go upstairs and that Amanda saw them in the bedroom, naked.
"I know Alex and I can guarantee if they went upstairs, it's not to play checkers," she says. We know Juliette is younger than the others on the show, but surely her moral compass is not so underdeveloped that she doesn't realize she's being cruel? Hasn't she seen enough after-school specials to know that lashing out at Kelsey via Garrett because she's mad that Alex is a fundamentally bad person isn't going to solve anything? I mean, honestly. 
Garrett looks like he's going to cry, but walks back to his car and immediately confronts Kelsey via FaceTime. Kelsey admits to kissing Alex at Madisson's barbecue in the previous episode, but is quiet as Garrett yells at her about the gala. He calls her disrespectful, says she crossed a boundary and calls her "full of s---."
"I'm not gonna be your friend anymore Kelsey. Forget about us ever getting back together," he says. "That just shows the person you are and you know what? I'm not going to deal with it."
The episode ends on a slow-motion shot of Juliette driving away in her car, and grinning evilly. 
Next week, there will apparently be a lot of crying and screaming between Kelsey, Garrett and Juliette for the penultimate episode.
Finally, it seems, all the drama we've been promised is here.
– Cassidy Alexander