Seventy-one-year old John Horne does not run marathons anymore, but he does what he can to stay in shape, particularly after having knee replacement surgery 15 years ago.
He loves a class on Tuesday mornings at the Lakewood Ranch YMCA that combines strength and balance.
"I try to keep up exercise," he said. "It let's you be as good as you can be. I'm afraid without it, I'd lose some of my capabilities."
And from a scientific stand point, Horne is right. Health and fitness professionals say keeping up with exercise, particularly as you age, is essential for maintaining and improving strength, balance and overall mobility.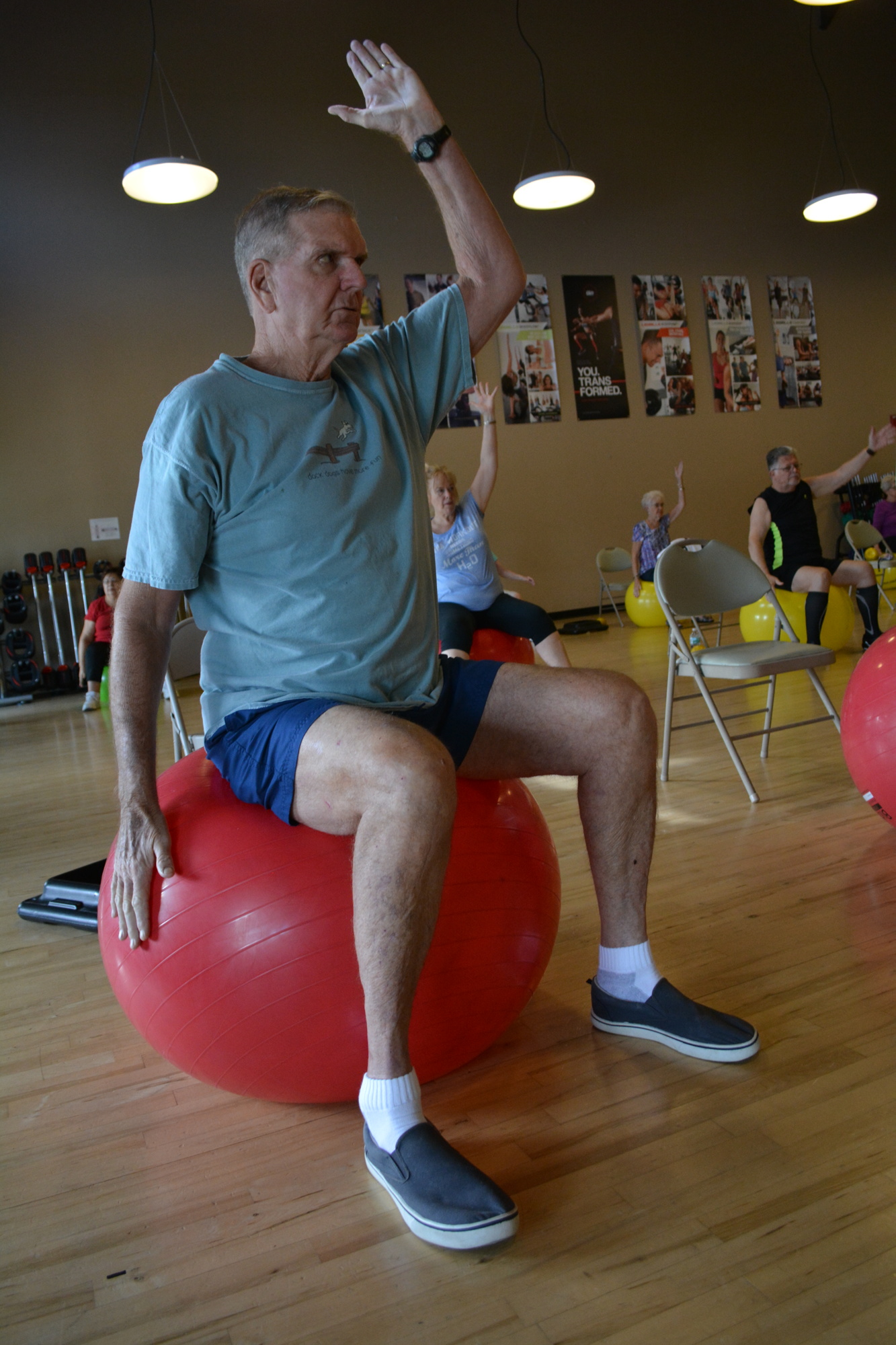 "Exercise is very important," said Maria Scafario, physical therapist at Coastal Orthopedics. "It helps keep your joints mobile and your bones strong. Helps combat conditions like osteoporosis (bone density loss) and arthritis, swelling, pain, stiffness and decreased range of motion in the joints."
It also helps prevent falls and injuries, keep joints nimble and increase energy, among other benefits.
"One of the big things we know is that you start losing muscle mass after age 40 and it really becomes accelerated as you get into your 60s, 70s and 80s," said Jim Caron, manager of outpatient rehabilitation at Sarasota Memorial Hospital and a physical therapist. "We know, through research, that if you put mechanical stress on your muscles you can reverse this, slow it down and actually gain muscle mass into your 80s."
Health professionals say exercise is important throughout your life. However, as you age, exercise becomes less of a routine for maintaining good physique or losing weight and more about quality of life and movability.
Although exercise needs will vary by each individual's unique health conditions, generally individuals ages 50 to 60 should begin to focus more on increasing lean muscle mass, primarily through progressive weight-bearing exercises, which build muscle mass, as well as bone strength and density.
"People in that age group start to experience is bone loss, especially women," said Kayla Frimmel, operations manager for HealthFit, a medically integrated fitness facility at Sarasota Memorial Hospital. "The best way to combat that is through weight-bearing exercise, strength training. Making sure you are incorporating that is crucial at that age. The negative side effects of being less active catch up to you at that age."
A lack of activity can translate into higher risks of heart disease, diabetes, osteoporosis, posture problems, back aches or spine conditions and more.
From age 60 to 70, focusing on flexibility becomes important. Without flexibility you can experience chronic pain, often from spine misalignments or imbalanced muscles. Getting in and out of the car, or bending down to pick something off the floor, for example, can become more difficult.
Performing simple stretches, receiving massages and using a foam roller to relax muscles can be important for maintaining and increasing mobility, Frimmel said.
From age 70 and beyond, functional movements become more important.
"That's when you start to see activities of daily living becoming a challenge," Frimmel said. "A lot of these exercises, you don't even need weight to do. It's just getting the body ready to move in certain ways. Walking backward so you can catch yourself.  Walk side to side. Use different planes of motion."
It's also the age at which many individuals have hip and joint replacements and other procedures that affect mobility. Frimmel said strengthening muscles in preparation for those procedures impacts recovery time and post-surgery mobility.
"People who exercise as they get older have a high quality of life, all the way up until about six months before their mortality. People who don't exercise tend to see a steady decline because they can't function the same," Caron said. "I tell people, if you want to maintain your function as you are aging, you have to think of exercise as a medicine like you would for your diabetes. It's not an option if you want to be functioning at the same level."