Suggestions, ideas and even a possible petition are solutions bubbling to the surface as Longboat Key residents and stakeholders grow irritated with traffic again this season.
"We know many things that could be done very quickly to dramatically improve traffic flow," said Lenny Landau, of the Longboat Key Revitalization Task Force, who frequently analyzes data pertaining to town issues.
Landau was the speaker at a Federation of Longboat Key Condominiums meeting attended by about three-dozen people Saturday at Westchester condominiums.
"Stop wishing," he urged. "Start doing."
Landau called the series of increasingly costly traffic studies conducted since 1980 — which have generated 581 pages total — a "placebo" for Longboat Key. He said nothing was done after any of the studies and is pessimistic the $675,000 Florida Department of Transportation study now underway would change the pattern.
"We don't need any other studies," Landau said. "We know what has to be done."
Commissioner Jack Daly agreed that past traffic studies have been shelved with no action or follow-up.
"I suggest that does not have to be the case with the Metropolitan Planning Organization-sponsored $675,000 FDOT Barrier Island Traffic Study," said Daly, the town's MPO representative. 
The study was unanimously approved by MPO members from Sarasota and Manatee counties and nearby cities.
The ideas Landau brought up inspired calls at the meeting for petitions from island residents designed to lobby support from government officials and politicians for immediate relief.
"I think any such effort needs specific goals and objectives to be successful and galvanize support. A political coalition solution is the only meaningful way to get results," Daly said. 
"My suggestion is for the petition to get that ball rolling by focusing on and effectuating the short-term actions, while paving the road by providing and building the coalition structure to achieve the long-term remedies to be recommended by the study."
Landau said traffic issues peak during the season from January through April. 
He notes traffic backups occur at the bridges – not in the middle of Longboat Key.
One of his most important immediate solutions, Landau said, is scheduled bridge openings should be prohibited during peak traffic periods, except during emergencies.
"We should not tolerate undemanded bridge openings," Landau said.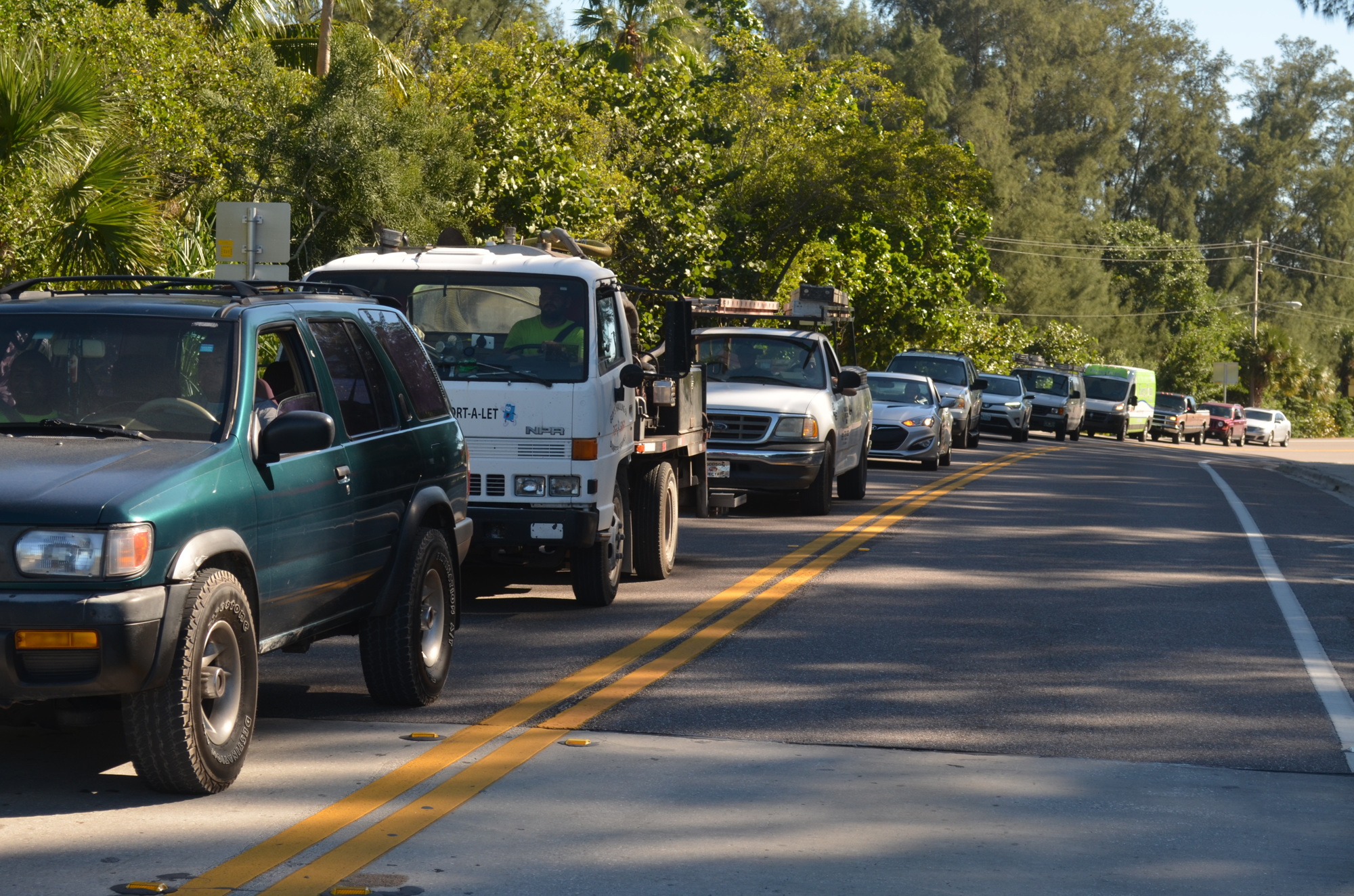 Landau said island residents can use several approaches to reduce traffic aggravation:
• Consider alternatives to off-island trips by patronizing island businesses or not going at all.
• Plan off-island trips during nonpeak periods before 10:30 a.m. and after 6:30 p.m.
• Use real-time traffic tools such as Google Maps Traffic before leaving home to avoid getting stuck.
• Car pool.
• Shop online or on the phone.
• Schedule annual and semiannual appointments outside season.
Landau also had some ideas businesses could implement, including:
• Extend early bird hours to encourage eating at local restaurants by people with event tickets.
• Expand medical services available on island.
• Establish a park-and-ride service for Sarasota and St. Armands Circle venues.
• Change work schedules to redistribute traffic through earlier start times and four-day work weeks.
He also said government could help test traffic ideas by using police, better traffic light timing and traffic cones.
"It seems so simple," Landau said. "It's not a new subject. But nothing is happening."
Landau is not working alone to find traffic solutions.
Carol Soustek, of Holmes Beach, is heading a small group trying to jump-start a water taxi operation with stops at Anna Maria Island, Holmes Beach, Bradenton Beach, Longboat Key and Lido Key.
"It's not something new," Soustek admitted. "Every time it's been tried before, it has failed because it got too big."
Soustek said the water taxi makes sense because it takes traffic off the road.
"The trolley works great and we've tried other stuff, but it always ends up on the road and you have more traffic," she said. "There are two other ways: water and air."
Soustek said she wants to find a way for people to move more pleasurably around the islands. She's knitting together a coalition of business and community leaders to do it.
"We've been meeting for the last two months. The boats are lined up, and some of the sponsors are lined up," she said. "We're nailing down the details on it."
She said serving Bradenton would be ideal, but doing so increases the amount of commitment and financing required to intolerable levels.
Another big issue for a water taxi operation is parking.
"The problem is where do the people park?" she said. "That's a big part of where you have to have your access points. Parking is at a premium."
Resort at Longboat Key Club General Manager Jeff Mayers said he, too, has a few practical solutions that could be implemented immediately.
Traffic onto and off of Longboat Key is always aggravated when the New Pass Bridge goes up at the wrong time, Mayers said.
"New Pass Bridge goes up at certain times during heavy traffic," Mayers said. "Can we change the schedule based on the traffic we have? That's a Coast Guard issue. If we could modify that schedule, say from 4-6 p.m., that would help traffic flow as well."
He said the new parking garage that will be built on St. Armands Circle and the use of crossing guards on the Circle would help a lot in regulating traffic flow. He believes the guards worked well in last year's experiment, although feedback about their effectiveness has been mixed among other stakeholders.
"Any time someone wants to cross the street, traffic comes to a halt," Mayers said. "That further backs up the traffic. For the pedestrians' safety and the flow of traffic, having some type of crossing system in place based on timing would help."
He would also post a police officer at the intersection of Tamiami Trail and Gulfstream in Sarasota, which is a gateway to the John Ringling Causeway into St. Armands Circle and eventually, Longboat Key. He said traffic lights break up the flow of vehicles, and the human ability to assess how traffic flow is best maintained would help.
"We know what times of day this is going to occur," Mayers said, citing morning and evening rush hours. "We should add traffic control such as a police officer.
"That's what we need to do. We know season is upon us so it's incumbent upon us to at least take steps to mitigate traffic."