It was an unflattering term to be associated with Manatee County, a place that is rapidly expanding in terms of population and business.
Yet, educator Terry Osborn threw out the scary notion of "a local brain drain."
Osborn, the vice chancellor of the University of South Florida Sarasota-Manatee, was addressing a packed house at the Polo Grill and Bar about his university's responsibility to provide the region's workforce with the type of labor it needs.
The program was hosted by the Lakewood Ranch Business Alliance and titled "What is the state of talent in our region?"
Five guest speakers talked about the importance of supplying the right type of employees into the regional workforce and adjusting their focus if that goal isn't being met.
Sharon Hillstrom, the president and CEO of the Bradenton Economic Development Corporation, made it clear for the county to grow successfully, those planning the growth had better form a cooperative bond with educators.
Hillstrom said Bradenton Economic Development is working with its "partners," the University of South Florida, Sarasota-Manatee; the State College of Florida, the Ringling College of Art and Design, New College of Florida and Eckerd College.
When Hillstrom makes contact with a business planning a move to the area, she can explain she has a cooperative effort among educational institutions to educate future employees for that business.
She also noted that "90% of new job creation comes from businesses already here."
So that means those educational institutions must understand the needs of local businesses as they grow and be committed to those businesses.
Hillstrom said many of the new positions involve STEM (science, technology, engineerings and math), and the colleges are adapting.
Osborn said South Florida Sarasota-Manatee has adapted by changing the way it prepares its students for the future.
South Florida has developed a career success map to prevent the "local brain drain."
Osborn said universities in general need to work harder to identify the kind of field a student wants to make a career and find whether the field matches the student's strengths. "We have to think about careers on the first day (of college)," he said.
The hope is the university will better guide a student on a path that will translate into a career. 
Instead of regular guidance counselors, the University of South Florida Sarasota-Manatee is hiring "career advisors" real-world businessmen and businesswomen who can describe work environments to students so they can make better decisions about their future careers.
Daisy Vulovich, an associate vice president for the State College of Florida, said her institution listens to the needs of local companies and then adapts in terms of degrees offered. They are offering more Information Technology education, more Web development and more database administration.
She asked, "How do you get a 17-year-old excited about risk management?"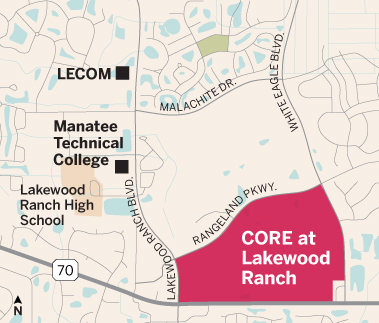 Vulovich said the college needs to explain to students about the opportunity in a growing field in the area and the fact they can land a job.
She looked at the crowd and said, "Your needs are reflected in the services we offer."
Other speakers were Dave Auxier, the director of the career resource center for the Boys and Girls Club of America, and Erik Sander, the executive director of FlexStation of the University of Florida.
The event was moderated by Jeff Maultsby, the director of the Office of Business and Economic Development of Sarasota County.
Eventually, the educators present at the seminar, and others, might be turning their attention to a different kind of need.
Kirk Boylston, the president of Lakewood Ranch Commercial Realty, has been courting STEM-related (science, technology, engineering and math) institutions to become an anchor presence in the 265-acre biotech campus that will be built between Rangeland Parkway and State Road 70 in Lakewood Ranch.
The project is known as the CORE (Collaboration Opportunities for Research and Exploration) at Lakewood Ranch.
"There are things we are working on," Boylston said of attracting a major educational player to the project. "But we have nothing that is set, nothing of substance."
Both Osborn and Vulovich said their institutions look forward to serving the Lakewood Ranch biotech campus once it develops. However, already having a physical presence in Lakewood Ranch, they didn't foresee build on the CORE campus.
Boylston said it is likely an anchor educational institution at the CORE will likely come from outside the region.
"All the local colleges are fairly set where they are located," Boylston said.
Keeping with the theme of the seminar, though, both the State College of Florida and Southern Florida Sarasota-Manatee would be willing to adjust curriculum to feed the workforce if a biotech campus needs a steady diet of employees.
"We are listening to local companies and thinking about how we can provide training," Vulovich said. "We will add more bio medical, more bio technical classes. That adds opportunities for our students and we will add degrees."
Already in conversations with many Lakewood Ranch businesses on how to support their workforce needs, Osborn said South Florida Sarasota-Manatee is committed to producing more STEM graduates.
"We always are looking to see what is the right opportunity," Osborn said. "And we have had conversations about our next stage of development."
That being said, having a physical presence in the CORE at Lakewood Ranch isn't on the radar.
"The complexity of that is beyond what is on our current strategic master plan," Osborn said.
A CORE campus might also draw from nearby educational institutions such as LECOM and Manatee Tech if those follow the trend and tweak curriculum to serve a blossoming biotech community. Both are within a mile of the planned CORE campus.
 Keiser University has a Lakewood Ranch campus and also could provide a wealth of graduates for the workforce.
Meanwhile, Boylston continues to land a major educational player that would call the campus home.
"They would be able to collaborate with (businesses) and they could supply interns, which is inexpensive labor," Boylston said. "(The companies) could then evaluate and pick and choose who they want to hire."
Boylston wouldn't say who he is talking to about coming to the new CORE at Lakewood Ranch. He said everyone will have to be patient.
"We're always getting closer," he said. "This is a long-term process, a very long process. We've only been in this six to eight months."