Katie Ware and Adam Brisske drove up from Cape Coral to spend a relaxing day on Siesta Key June 4 — but first, they had to find a place to park.
"Parking is definitely the most stressful part of my day," said Ware, who eventually managed to find a space in the crowded Siesta Key Beach parking lot.
People might think it's the offseason on Siesta Key, but the beach remains full as tourist rates continue to increase year-over-year. Siesta Key Visitor Center and Volunteer Manager Mia Leone says she's been seeing the number of visitors increase since Siesta Key earned the distinction of "Best Beach in America" in 2011, and she doesn't think the number of tourists will decrease in 2016.
"I think (the seasons) are starting to run up into each other," Leone said. "It used to end in April and there was a small break, and now it's going right through."
Bob Hickernell, manager of the Sea Spray Resort on Siesta Key, agrees with that assessment. He has been the manager of the resort for six years, and he's also been seeing more visitors each year.
Each of these visitors pays a five percent tax on rentals of six months or fewer via the Sarasota County tourist development tax. Reports from the County Tax Collector show revenues have steadily increased since 2014. Siesta Key accounts for 30 percent of Sarasota County's total tourist development tax revenues this year so far.
Visit Sarasota County President Virginia Haley said the bounding growth has been a boon for the area, but she thinks things may be slowing down soon.
The increases Sarasota has seen are representative of a 5-year trend, with year-over-year increases sometimes climbing into the double digits. There was a 13.8% increase in tourist tax revenues between the 2013 and 2014 fiscal years and a 12.3% percent increase between the 2014 and 2015 fiscal years.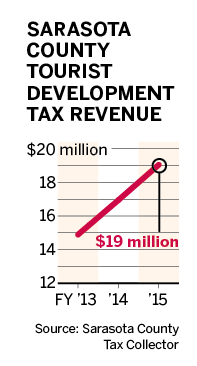 Haley said the recession, coupled with the fears the 2010 Deepwater Horizon oil spill would reach Sarasota, left a lot of room for the market to recover.  
She thinks the county will be trading larger increases in tourism for increases closer to two and three percent — what she calls "normal growth" — in the upcoming years. As of May 2016, tourist tax revenues have increased by an average of 5% in fiscal year 2016 with tax revenues. However, tourist tax revenue actually decreased by 2.2% in April 2016 compared to the same month last year. 
Despite her projections that tourism will grow at a lower rate, she is expecting a bigger-than-normal bump in activity during the upcoming 2017 World Rowing Championships as well as the World Rowing Masters in 2018.  
Though Haley foresees a decline from some of the double-digit tourism increases Sarasota has seen in recent years, she isn't worried about the health of the region as a tourist destination.
"I actually think a pattern of normal growth is good," Haley said. "What you don't want to see are huge spikes in room rates, because that can actually scare off potential visitors and give the impression we're too expensive."