Manatee Lost Lagoon made a splash last April in East County by convincing Manatee County officials it could successfully build a Disney-style regional water park at Tom Bennett Park.
In a month, it will have to convince them again.
At Lost Lagoon's request, Manatee County on Feb. 9 agreed to re-issue a request for proposals for a water park at that location, 400 Cypress Blvd., Bradenton. The new request for proposals includes an opportunity for bidders to have up to 70 hotel rooms as an auxiliary use to the facility.
The new request for proposals means that another proposer could come forward and win Manatee County's favor, a risk for Manatee Lost Lagoon, which has invested 10 months of work on the project and had planned to spend up to $30 million constructing it.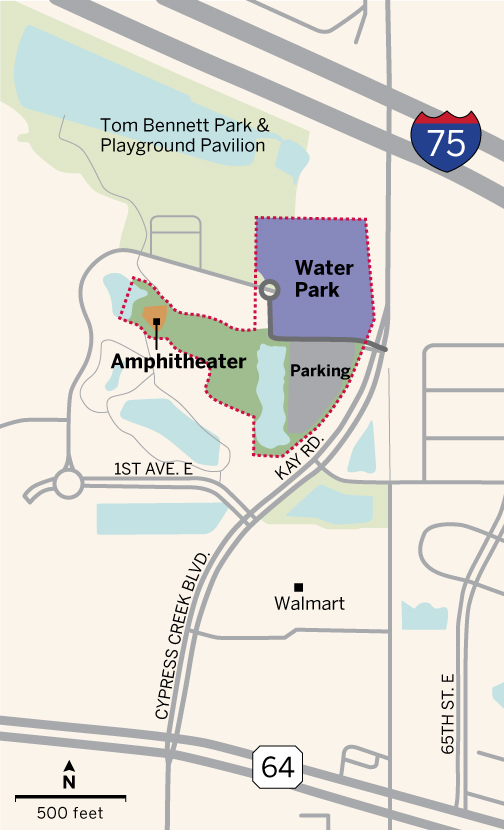 During negotiations with the county, Lost Lagoon officials determined adding the hotel use was worth the risk.
"As they were working with their financial people and others involved with it, they realized to be successful and to have a year-round operation and to attract those from outside the area, you need to have some lodging associated with it," Lost Lagoon's attorney Caleb Grimes said. "People who go there often want to go for a couple of days and you need accessory lodging."
Grimes said his client and the county have been working to resolve the issue since summer. They had hoped to incorporate hotels as part of their original submission, but county attorneys felt a new request for proposals should be issued to ensure fairness to other prospective bidders.
The request for proposals is open for 30 days. Once bids come in, an evaluation committee will recommend if the county should enter negotiations with one of the bidders. 
If Lost Lagoon again proves successful, it can simply resume negotiations with the county, Chief Deputy County Attorney Rob Eschenfelder said.
He expects negotiations will take a minimum of six months. Among major issues would be whether the water park would purchase or lease land from the country, what site improvements would be needed and who would pay for them, and whether the county would deem the business plan to be sound.
If negotiations are successful, finalized plans and agreements would go before the Manatee County Commission for approval.
Commissioners have offered support for the concept. 
"My husband said he wants to be the first in line," Commissioner Robin DiSabatino said at one meeting. "I think it would be a great tourist destination."
However, commissioners have said the RFP does not obligate them to approve the project and they want public input to be part of the planning process for the water park.
Lost Lagoon's original request for proposals included plans for a 2,667-foot-long lazy river, a 20,000-square-foot wave pool, thrill and multi-person water rides, a coaster slide and a multi-level children's play area. 
Park developers had hoped to have the park open Feb. 27, 2017, pending successful negotiations with Manatee County.