When it came time for Tara's John McIntyre to toot his horn, he didn't talk about all the money he has made, his Construction Hall of Fame award or $900 million of projects that he has overseen.
Sitting at his Sarasota office, McIntyre went a different direction when he talked about McIntyre, Elwell and Strammer General Contractors.
"We've done $900 million in sales and we've been in business for 28 years," he said while sitting alongside company vice-presidents Mark Freeman and Ryan McIntyre, his son. "We never have been in a lawsuit with a customer. You always do what's right."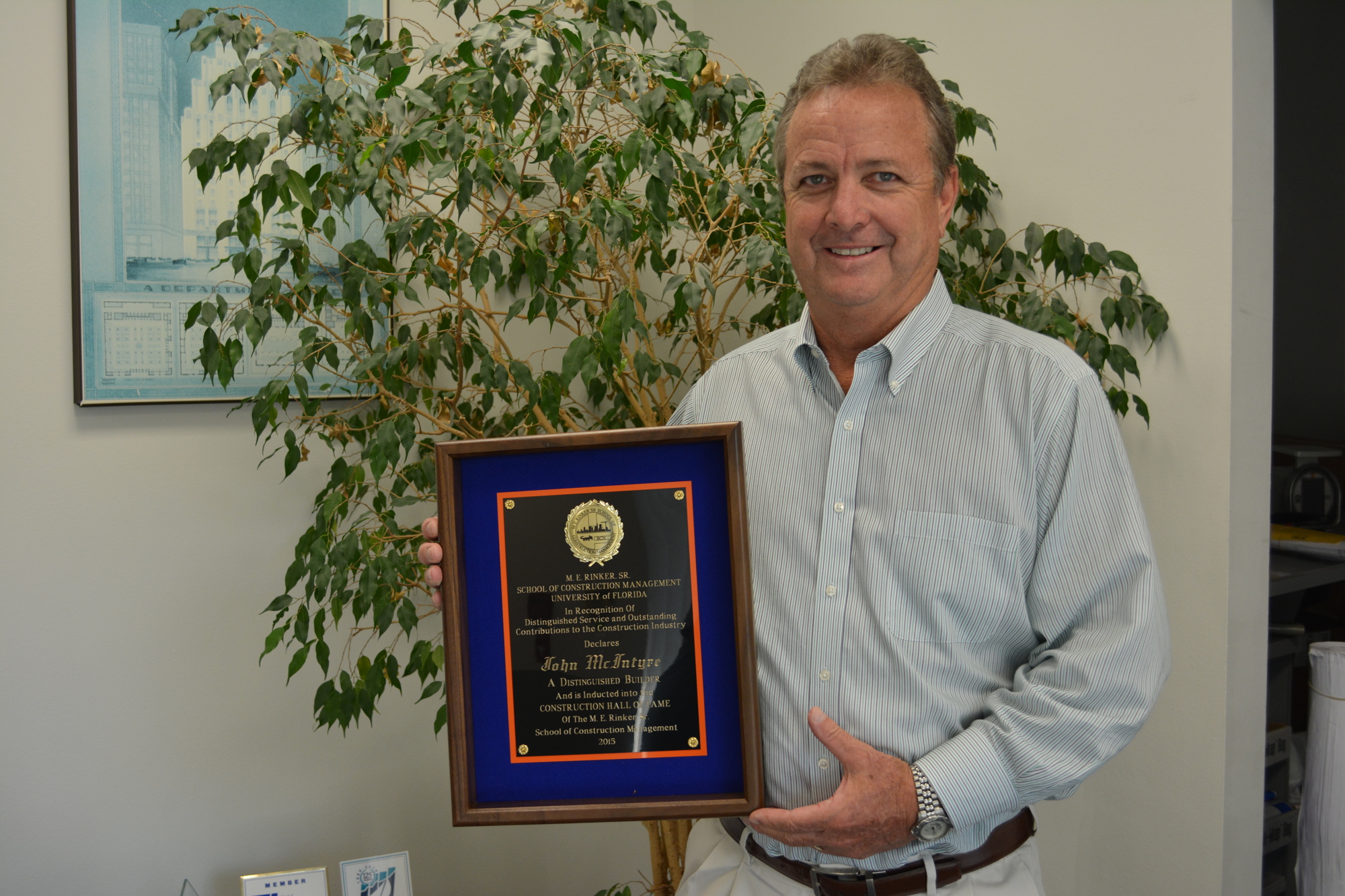 Among the things that have been right for John McIntyre has been giving back to the University of Florida. When he was inducted into that university's Construction Hall of Fame on Nov. 7, he was cited for making a difference in the industry, the community and at the University of Florida.
"John has been very involved (with the Rinker School of Construction Management)," said Dr. Robert Ries, the director of the Rinker School of Construction Management. "He is on our executive committee advisory council and he helps the school with its curriculum. He understands what the industry is doing and he brings that back into the education process."
He also understands what it means to go through the University of Florida's construction management program. Both his sons, Ryan and Allen, who works for Neal Communities, graduated from that program. Freeman earned a masters degree from Florida's building construction program in 1998 and both of John McIntyre's partners, Fred Strammer and Greg Elwell, are University of Florida graduates.
In all, 14 executives in McIntyre's company, which concentrates primarily on the commercial sector, have gone through the University of Florida construction management program. "Just to be accepted in the program is saying something," John McIntyre said. "That proves you to be pretty smart. If you go through the program, you will be respected nationally. University of Florida graduates are in demand."
As John McIntyre talked about his induction with a plaque sitting in front of him, he said it was a company-wide honor that only was bestowed on him because his name is "first on the shingle."
"He deflects too much of the praise," Freeman said. "He's earned (hall of fame recognition)."
Freeman was fresh out of the University of Florida when McIntyre gave him a chance 18 years ago.
"I was green," Freeman said. "I had done a little concrete and a little carpentry. He taught me everything I know. I remember that I just liked building things."
John McIntyre said that building things was in his blood.
"I am a fifth generation Irish immigrant," he said. "I came from a line of carpenters and fishermen, although my grandfather and my father were plastering contractors in the residential sector. And when they couldn't build, they would fish."
Ryan McIntyre said that even though a lot of people would look at his father as the manager of a large company, his hands-on ability is what has made him special in his industry.
"Ours is a means and methods industry," Ryan McIntyre said. "Sometimes you just learn the know-how. He can build something from a piece of dirt to the finished product and he can do it by swinging hammers and stacking bricks. It's about how you get from Point A to Point B. Drawings don't always show you how to do that."
John McIntyre lived for years in Lakewood Ranch before moving to Tara in 2007. Both his sons still live in Lakewood Ranch. He is a member of the Lakewood Ranch Community Fund Founder's 50 (twice). He said he loves the area and has done more than 100 commercial projects in Manatee County.
All the time, he uses a simple philosophy that took him to the builder's hall of fame.
"You build buildings that last, and stand behind them," he said.
Eventually, he wants to turn the business over to the young guys such as Freeman and his son Ryan.
"Absolutely, the bar is set pretty high," Ryan McIntyre said.
John McIntyre said of his son Ryan and Freeman, "They will be around the next 18 years."
Main clients: Publix's, Beall's, Whole Foods Markets.
Company website: mesgc.com