Manatee County District 5 Commissioner Ray Turner was surrounded.
A county information session on the proposed roundabout at the Lorraine Road and Players Drive intersection in Lakewood Ranch was attended Sept. 27 by more than 200 concerned citizens. The session was held at St. Mary Magdalene Episcopal Church.
Those on both sides of the issue — those in favor of a roundabout and those who want a traffic signal instead — pushed their way up to Turner, who attended the entire event from beginning to end.
One by one, he spoke to everyone who wanted to offer an opinion.
"There is so much noise about it," Turner said of selecting a type of traffic control for the intersection. "There are so many constituents who are concerned.
"I don't know if I learned anything new because I have received a ton of email," said Turner, who is well versed on both sides of the issue. "There could be some design flaws."
Manatee County Public Works Director Chad Butzow said technically no final decision has been made to build a roundabout or a traffic signal at the site, but he said the county's Capital Improvement Plan lists a roundabout as being preferred for the site. So unless commissioners decide to have more discussion on the project, it will be built.
It was in December when then-Commissioner Vanessa Baugh spoke to groups of residents who hoped the county would build a roundabout at the site. She then told her fellow commissioners that she felt a roundabout would be a safer alternative and would help to reduce speeding on that stretch of road.
The other commissioners unanimously agreed and decided to fund design costs of a roundabout instead of a traffic signal at the intersection, which feeds entrances to Country Club East on one side of Lorraine Road and the Country Club on the other side.
Butzow said at the time that having both designs would allow county commissioners to make a closer examination on which plan would be better.
On Sept. 27, Butzow said whatever the final decision, Public Works is a year or more away from breaking ground on the project.
"There is still a lot of work to be done," he said.
He said Turner was seeking input to make a decision about the project.
The input was passionate and emotional.
Country Club's Howard Polivy said his concern was simply getting out of his community and he thought a roundabout would give him a better chance. 
Edgewater's Tom Williams of the Village Idiots is a bicyclist who said he opposes a roundabout because it will cause additional safety issues for bicyclists.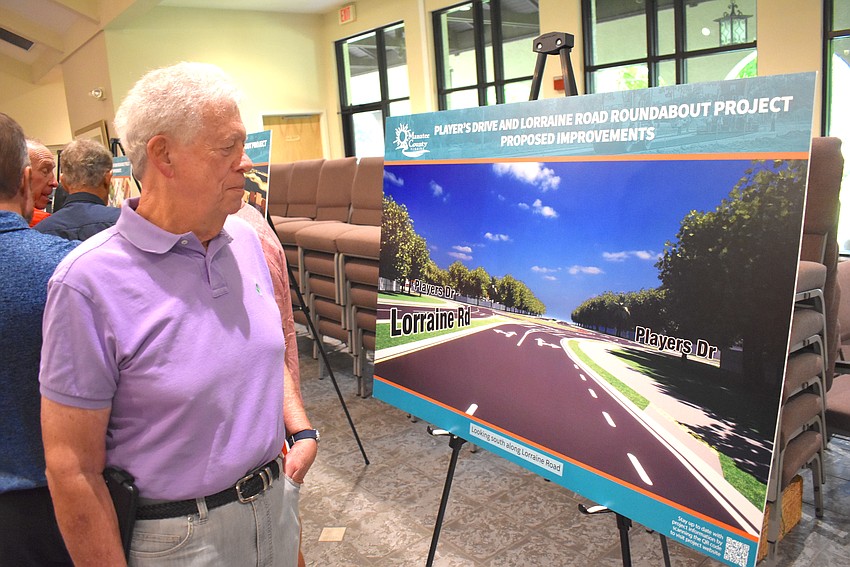 David Goldheim, a co-chair of the Residents for Traffic Safety Committee, which is in favor of a roundabout, said roundabouts have been proven to be safer and he was satisfied with the county's plan to install flashing lights for pedestrians who wanted to cross from Country Club East on the east to Country Club on the west, and vice versa.
Goldheim said those living along Lorraine Road are concerned about heavy trucks stopping and starting, which means more noise pollution.
"It will cause our property values to decrease," he said.
He also said a traffic light would cause backups and be a great disruption to the area.
Mike Seifert is the President of the HOA Board in Country Club East. He said one of the biggest issues to be considered is that hundreds of people cross Lorraine in golf carts and that a traffic signal would allow those carts to cross safety. He said a traffic circle is much harder to navigate with a golf cart.
Another main problem, he said, was the roundabout design would lead to a backup.
Country Club's Judy Schilg is in favor of a roundabout. She said concerned members of her community began talks with Baugh because they thought the intersection would be very dangerous if a signal light was installed.
"Vanessa started thinking about ideas," Schilg said. "This all started because our commissioner was listening to our group. I hope (Turner) picks up our cause."
Julie Lengacher-Taylor, whose house is just off the intersection, favors a roundabout because she is worried about the noise pollution. She said that noise will be caused from vehicles speeding away upon a green light. She also said a traffic signal wouldn't stop motorcycles from racing at night.
"They will have to slow down for a roundabout," she said.
David Wiegand, the head of Residents for Traffic Safety Committee and a Country Club East resident, favors the roundabout. 
"Safety is our biggest concern," Wiegand said. "A roundabout will eliminate T-bone collisions. Speed will be reduced and everything will move slower. People can only make right-hand turns."
Wiegand said he thought the decision to put in a roundabout had been made, but he has become concerned because he saw "so many red shirts" at the information session. Those in favor of a traffic signal mostly were dressed in red.
Wiegand said those who were opposed to a traffic circle were "more fear mongering than having any actual safety data.
"They have no statistics to support (a traffic signal would be a safer option)."
Country Club East resident Darrel Drury, a graduate of Yale whose career has involved statistics and policy analysis, said no statistics are available to support either a traffic signal or roundabout.
"The data is not available and that is the key," Drury said. "We don't have data about this specific site. We need an individualized traffic study. They can do that two ways, One, would be a macro level study using the Highway Capacity Manual. A macro can provide you with a reliability analysis.
"Then they could do a micro simulation model in which you envision both designs."
He said Trafficware Group provides excellent software for such a study.
Ogden Clark, a strategic planning manager for Public Works, said the county did a traffic count in February just south of the Lorraine Road and Players Drive intersection, finding that just over 18,000 vehicles a day were using that stretch of road. Of course, with development, the county expects that number to rise.
"We have professionals looking at this," Clark said. "We are not just holding our thumbs up and hoping it works."