When Myakka City's Erika Teuton was able to sleep in an actual bed in her home for the first time in nearly a year, she sent a photo of the bed to her mom.
"What is this?" Erika Teuton texted to her mom as a joke. 
Teuton and her family had become accustomed to sleeping on air mattresses on plywood in the living room rather than the comfort of their beds. 
Teuton has spent the past year fighting insurance companies and restoring their home to what it was before September of last year when Hurricane Ian ravaged Myakka City. 
In September of this year, Teuton said the family finally was able to have floors installed and their bedrooms back to normal. 
"Sometimes you take for granted that you had a bed to sleep in," Teuton said. "It kind of stinks that it took so long to get here, but the way everything happened and everybody came together helping us, we're truly blessed to be able to be back to normal again."
Scariest night of her life
Around 10:30 a.m. Sept. 28, 2022, the Teutons lost power. From then on, the winds only worsened, with gusts nearing 150 mph, as the long day turned into night.
"I was so nervous and praying the whole time thinking that we probably made the worst decision of our life by staying because I was watching pieces of our house blow off," Teuton said.
That night, while her husband Levi, and their daughters, Kya and Ella, slept together in a hallway, Teuton said she paced the floors too anxious to sleep. 
As water began to penetrate the front of the home, Teuton grabbed every towel and cloth she could to plug leaks. 
The home was built 4 feet above ground, so the actual flooding outside wasn't impacting the home.
Meanwhile, Teuton's in-laws, Susanne and Bushrod Teuton, who lived down the road, were facing their own challenges. A tree had fallen on their home, and the roof was ripped off.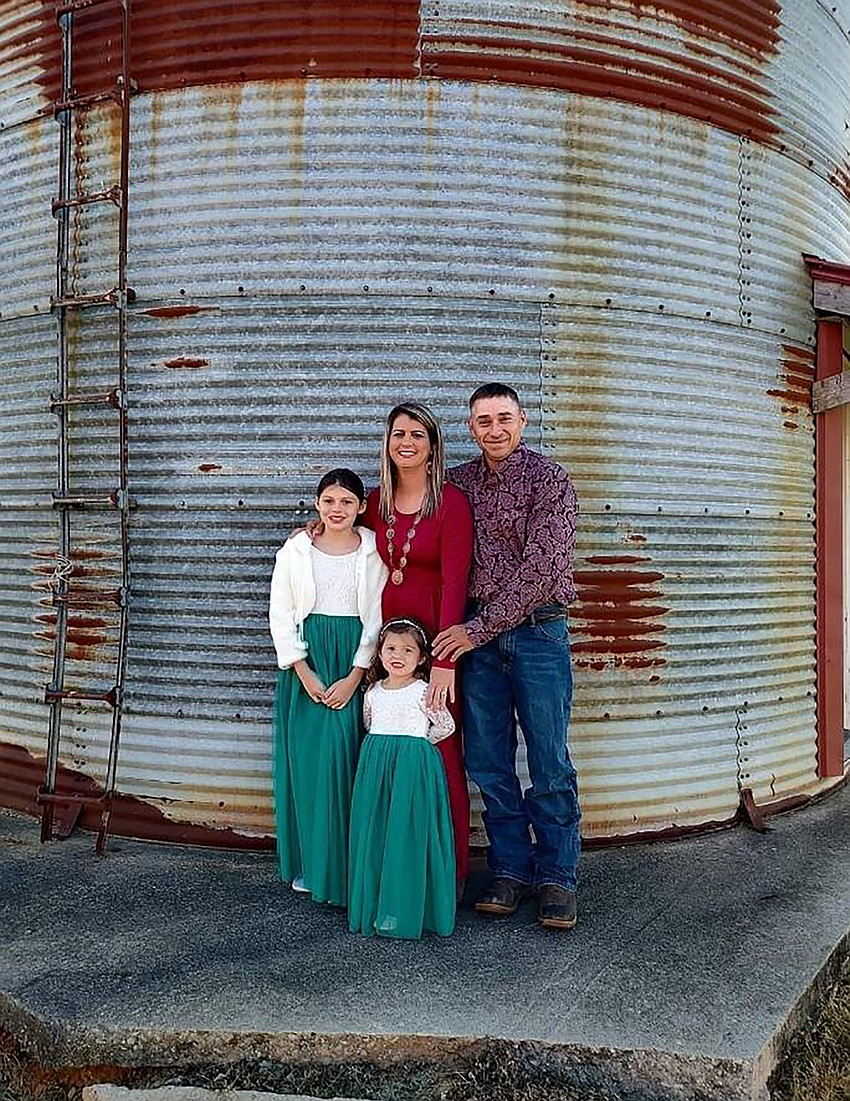 Susanne and Bushrod Teuton were trying to get to the Erika and Levi's home, but they found a neighbor's roof that had blown off blocking the bridge to get there. With help from others, they were able to get past the bridge and reach their relatives' home.
The wind was strong and much of the area was flooded. When Bushrod Teuton opened his car door, the wind smacked it back at him, causing him to fall into the water that had flooded around the house. He was able to get back into his truck and drive to the back of the house where he and his wife had to swim to the back door. 
"It was the craziest thing because never in my life would I have ever thought that water could go that far and be that deep in our yard," Erika Teuton said. "There's water in places that I would have never imagined water would be. It looked like we sat our house in the middle of the ocean and it was white capping all around us."
The Teuton home sustained approximately $80,000 worth of damage from the wind and rain battering the front of the house for so long it caused damage to the drywall, sub-flooring and more.
By the morning of Sept. 29, 2022, there was water covering the master bedroom, living room and another bedroom. 
The vinyl siding of the house was ripped off. Their chickens drowned and their pens were destroyed. 
"It was nothing shorter than by the grace of God that we survived it," Teuton said. "I am super grateful. The house can be replaced, material things can be replaced, but your life can't be replaced."
Teuton said seeing the damage to their home was heartbreaking as it was built in 2020. 
After surveying the damage, Teuton was overwhelmed. 
What's next?
As she sat outside her home the morning after the hurricane, Teuton had to think what's next?
She called her insurance company, which sent an agent out the following day to help air out the home. 
The family moved into a camper they rented while the battle began with their insurance company. By December, the family couldn't afford the camper so Teuton said they blew up air mattresses and slept on plywood in the living room. Part of the house was not damaged so the family could live in the home while repairs were being done. 
"If it wasn't for the community coming together and helping us with food and everyday essentials, I don't know what we would have done," Teuton said.
Now a year later, Teuton said the inside of the home has been repaired, and the family is back to some sense of normalcy.
When they were able to sleep in actual beds again, Teuton said it felt like she was on vacation.
"That was the best night of sleep I had since the hurricane," she said. 
It has been a year of overcoming challenges and being patient. 
The family had to depend on insurance to cover the cost of repairs. Teuton said the Federal Emergency Management Agency couldn't provide assistance because the family had homeowners insurance. 
Teuton said she had to "basically harass" the insurance company to help her. 
"They just have no compassion, and they didn't want to help," she said. "When it was beyond me, I had to hire a public adjuster to get help. It was frustrating to me because we pay for homeowners insurance and our mortgage payment, and they're supposed to cover things. This is what we pay a lot of money for, and then when you need it, they don't want to cover it for you. That's extremely frustrating."
Now the family is waiting to hear back from the insurance company once again to receive money to finish repairs on the outside of the home.
The vinyl siding needs to be replaced as well as fencing. There still is debris from trees that needs to be picked up. 
Although it's been a frustrating year, Teuton chooses to look on the bright side. She no longer has to spend her weekends working on repairs in her home. She can spend that time with her family. 
"I could not see the light for the longest time, and now since everything's come back together, it's actually better than it was before," Teuton said. "I'm just grateful."
Hurricane Ian taught Teuton two lessons. One was to stock more food and water. The second was if another hurricane that is a Category 3 or higher approaches, she and her family are evacuating.