With high school fall sports now in the thick of the postseason, it gets difficult to acknowledge all the strong performances. That's why this column exists. Every few months, I like to give a shout-out to under-the-radar athletes in the area, the ones who aren't getting a lot of headlines for one reason or another, but are putting on a show in their sport of choice. 
Here are 10 high school fall athletes who deserve credit for strong 2023 campaigns:
Nicolas Bencomo, Cardinal Mooney High boys golf
The Cougars' season ended at the FHSAA regional meet stage, but junior Nicolas Bencomo had another strong year. Bencomo is ranked 35th in the Class 1A individual rankings by the FHSAA — using a formula developed by iWanamaker — as of Nov. 7. Bencomo had a number of strong performances in 2023, including an individual win (70) at the team's district tournament, held Oct. 23 at Laurel Oak Country Club. 
Jackson Mullet, Sarasota High football
The Sailors (1-9) had a tough season in their first year under Head Coach Josh Phillips, but Jackson Mullet, a senior wide receiver, did the best he could given the circumstances. According to MaxPreps, Mullet caught 42 passes for 642 yards and four touchdowns. Entering the season, Mullet had 238 receiving yards for his career, so 2023 qualifies as a breakout season for the 5-foot-11 pass-catcher. 
Daniel Krajewski, Cardinal Mooney High swimming
At the Florida High School Athletic Association Class 1A state meet, held Nov. 3-4 in Ocala, Cougars junior Daniel Krajewski finished 12th overall in the boys 200-yard individual medley (1:56.16) and helped Mooney finish 14th in the boys 200-yard medley relay (1:40.91) alongside senior Alexander Mitten, junior Michael Navarro-Lenza and freshman Turner Mitten. 
Jolie Pastorick, Cardinal Mooney High girls golf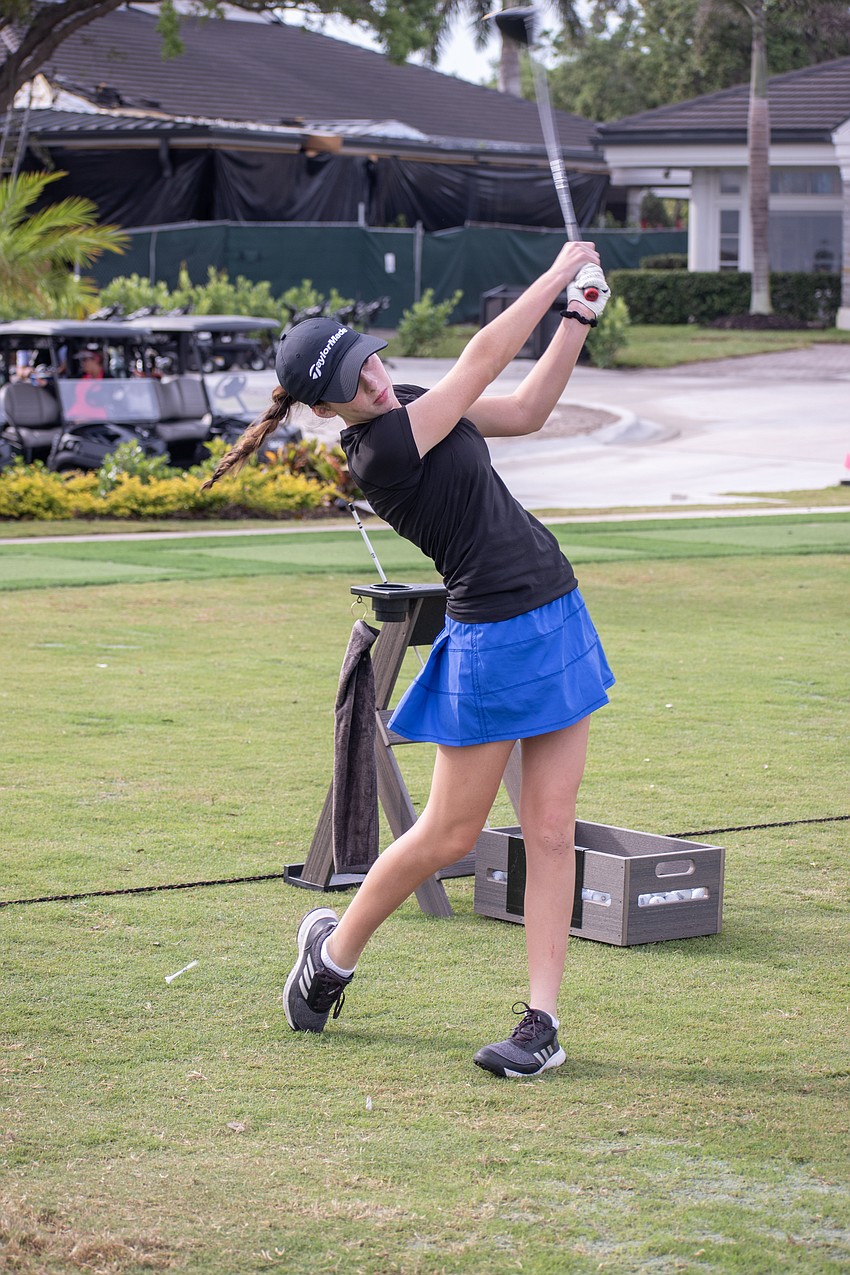 Like her Mooney boys golf classmate Nicolas Bencomo, Jolie Pastorick had a strong individual season. The freshman girls golfer finished 64th in the FHSAA's Class 1A rankings. She had multiple second-place finishes, including at the team's district meet, and finished tied for eighth (75) at the team's regional meet, held Oct. 31 at Valencia Golf and Country Club in Naples.
Autumn Markey, Riverview High volleyball
It was a rebuilding year for the Rams, who finished 10-12 under first-year Head Coach Jason Mocherman. Markey, a senior, won't be around to see the fruits of the rebuild, but she left everything on the court, playing her best in her final season. Markey did a bit of everything for the Rams, and did it efficiently: She was second on the team in kills (128) while leading the team with a .235 hitting percentage. She also was second on the team in aces (25) and blocks (57). 


Aubrey Antczak, Sarasota High girls cross-country
Sailors sophomore runner Aubrey Antczak finished fourth (18:40.10) at Sarasota's FHSAA district meet, held Nov. 2 at North Port High. The run was a season-best for Antczak, who will now move onto the team's regional meet, held Nov. 9 at Holloway Park in Lakeland. 
Ethan Wang, Booker High boys swimming
At the Florida High School Athletic Association Class 2A state meet, held Nov. 3-4 in Ocala, senior Ethan Wang finished 12th overall in the boys 200-yard freestyle (1:48.00) and 15th overall in the boys 100-yard freestyle (49.75 seconds). 
Jillian Davidson, Sarasota High volleyball
The Sailors finished 12-14 under second-year Head Coach Daris Rodriguez. Sarasota senior Jullian Davidson's play at middle hitter made sure the Sailors maximized their performance level. Davidson had 168 kills while making just 48 attack errors. She also led the Sailors with 127 total blocks while making just 20 block errors. 
Katie Powers, Cardinal Mooney High volleyball
The Cougars were the premiere Sarasota-centric volleyball team in 2023, finishing 21-8. Still, liberos (and defensive players in all sports) tend to get overlooked, which is why Katie Powers is on this list. Powers, a junior, had 397 digs for the Cougars this season, and added 32 aces and 62 assists to provide some offense. 
Justin Brock, Sarasota Christian football
The Blazers play eight-on-eight football in the Sunshine State Athletic Association. It is not the same level of competition as 11-on-11 in the FHSAA, and is stylistically different as well, but Sarasota Christian went 8-3 in 2023 before losing 54-20 to Master's Academy (10-0) in the AAAA quarterfinals on Nov. 3. 
The Blazers had a lot of contributors, but no one contributed as heavily, or in as many ways, as sophomore Justin Brock. He led the team in passing yards with 1,115, throwing 15 touchdowns and just one interceptions. He also led the team in rushing, gathering 551 yards and five touchdowns on 38 carries. But Brock also found a way to collect 223 receiving yards and two touchdowns on 13 catches. He also returned four punts for 145 yards. It all adds up to 2,034 all-purpose yards and 22 touchdowns in 11 games. How will he top that as a junior in 2024?