As Sarasota's Yianni Chalvadakis poured Metaxa, a Greek brandy, into a sizzling cast iron skillet that was cooking kasseri cheese, flames erupted. 
In typical Greek fashion, Chalvadakis exclaimed, "Opa!"
Opa, loosely translated is kind of a Greek way of saying, "wow," and it fit the moment perfectly.
"I used to look down (at the flames), but I don't do that anymore," Chalvadakis said with a laugh.
Once the flames died down, his saganaki was finished. 
He placed the flambeed cheese on top of a slice of pita before topping it off with loukaniko, a Greek sausage flavored with spices, orange rind and wine.
The saganaki and loukaniko are the newest additions to the menu for St. Barbara Greek Orthodox Church's Greek Glendi.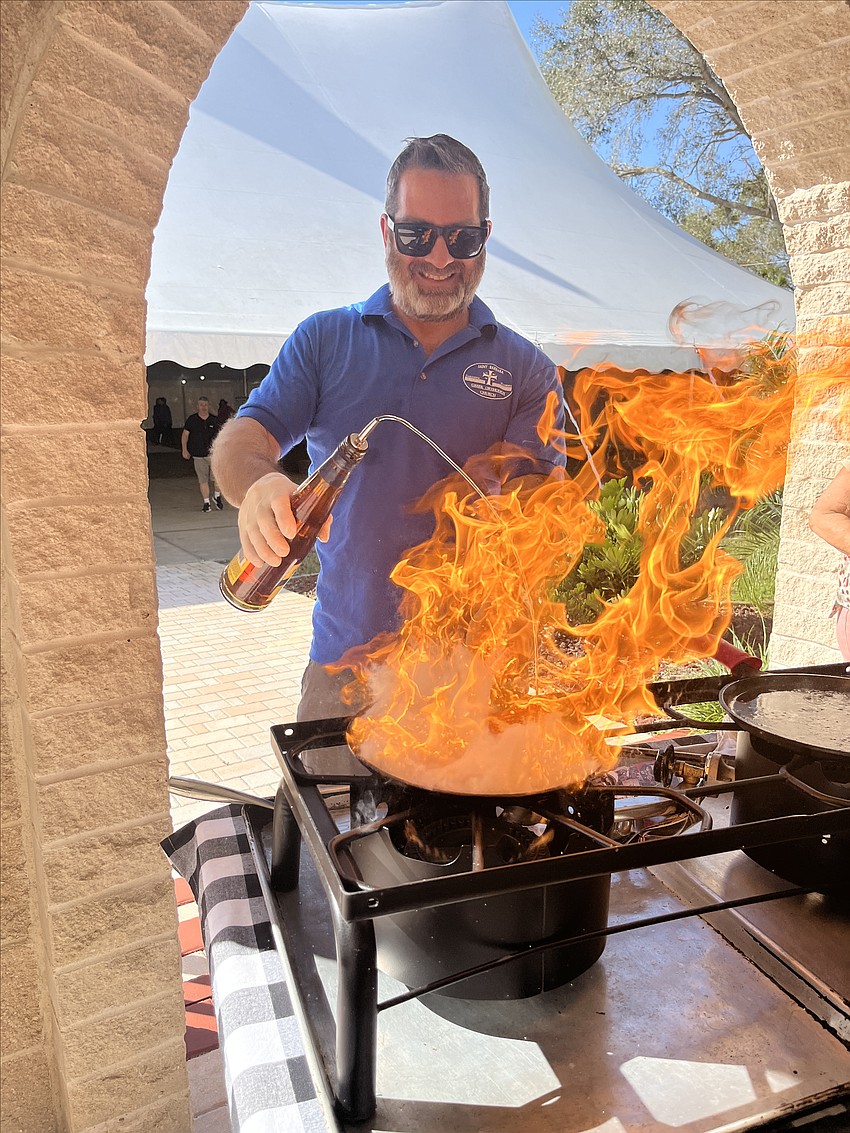 University Park's Denise Chimbos can't wait to see the thousands of people come to the church for the Greek festival that features classic Greek dishes including pastitsio, moussaka and lamb shanks as well as Greek pastries including baklava, koulourakia and kourabiethes. 
"We're so happy to present the festival to the community, and we hope they enjoy it," she said. 
Chalvadakis previously made saganaki at Greek festivals for four years in Boca Raton before his family moved to Sarasota and became parishioners at St. Barbara Greek Orthodox Church. 
He's become an expert at making saganaki and loves to put on a show with the flames. 
"It's a skill," Chalvadakis said. "(The saganaki station) is going to be the first stop right at the entrance, so we'll put on a nice show.
"People love it. Everybody gets their phones out, and everybody wants a picture. We'll do a countdown to prepare them. We take pride in displaying it out there in front of everyone."
Chalvadakis said the church purchased 500 pounds of cheese, which will equate to about 2,000 servings of saganaki.
Saganaki is a Greek aged sheep's milk similar to parmesan. It's a hard cheese that fries well.
Chalvadakis starts off the saganaki by putting oil in the heated cast iron skillet. He then adds the cheese and will occasionally remove any excess oil. He's paying attention to the amount of oil and the temperature of the pan.
He can tell when the cheese is ready to be flipped when there is bubbling around the edges of the cheese so there's a crispy crust.
Once each side was nicely browned, it was time to flambé the cheese.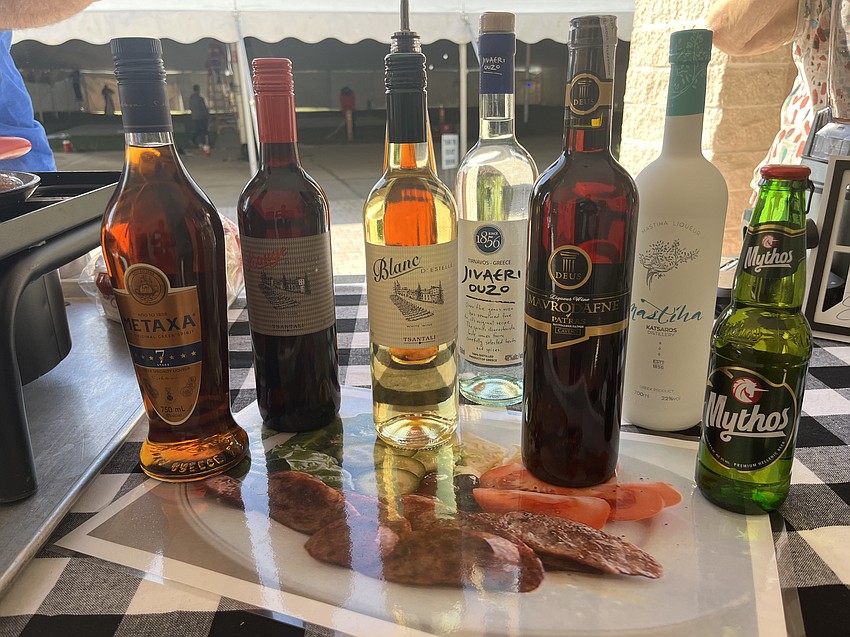 He grabbed the Metaxa and gave the saganaki a "generous pour" because the amount is never measured out. 
"You want to make sure there's enough brandy to add that flavor under the cheese, but you also want a little extra brandy to get those flames up," Chalvadakis said. "The more brandy you're putting in, the higher the flames. We save that for the evenings because you can see more of an effect."
Metaxa is a Greek brandy that's rich, smooth with a vanilla and woody taste, adding to the flavor of the saganaki. Oftentimes, Metaxa is being used to celebrate with guests on special occasions or at funerals.
"It's a big compliment to get a bottle of Metaxa," Chalvadakis said. 
He made sure to put a little distance between himself and the roaring flames. Although he's never had a major accident, the flames from the saganaki have caused a few minor problems.
"We've burned our arm hairs, our eyebrows, our beards many, many times in the past," Chalvadakis said. "No major accidents but just a little bit of hair here and there."
All that's left to do after the saganaki and loukaniko are finished is to enjoy. 
"Every plate is handcrafted one at a time," Chalvadakis said. "There's not much automation so you're making each plate from scratch."
People can order the saganaki alone or with loukaniko. Chalvadakis said loukaniko is unique for its exotic spices, orange rind and wine that creates its smokiness and sweetness. 
Chalvadakis recommended pairing the saganaki, loukaniko or the combination of the two with one of the Greek wines that's offered at the festival or ouzo, an aperitif flavored with spices including anise. He also recommends Mastiha, a xanthan gum liquor that has a rich, smooth and sweet mastic flavor. 
For those who need a taste of coffee at the festival, frappés are new to the drink menu.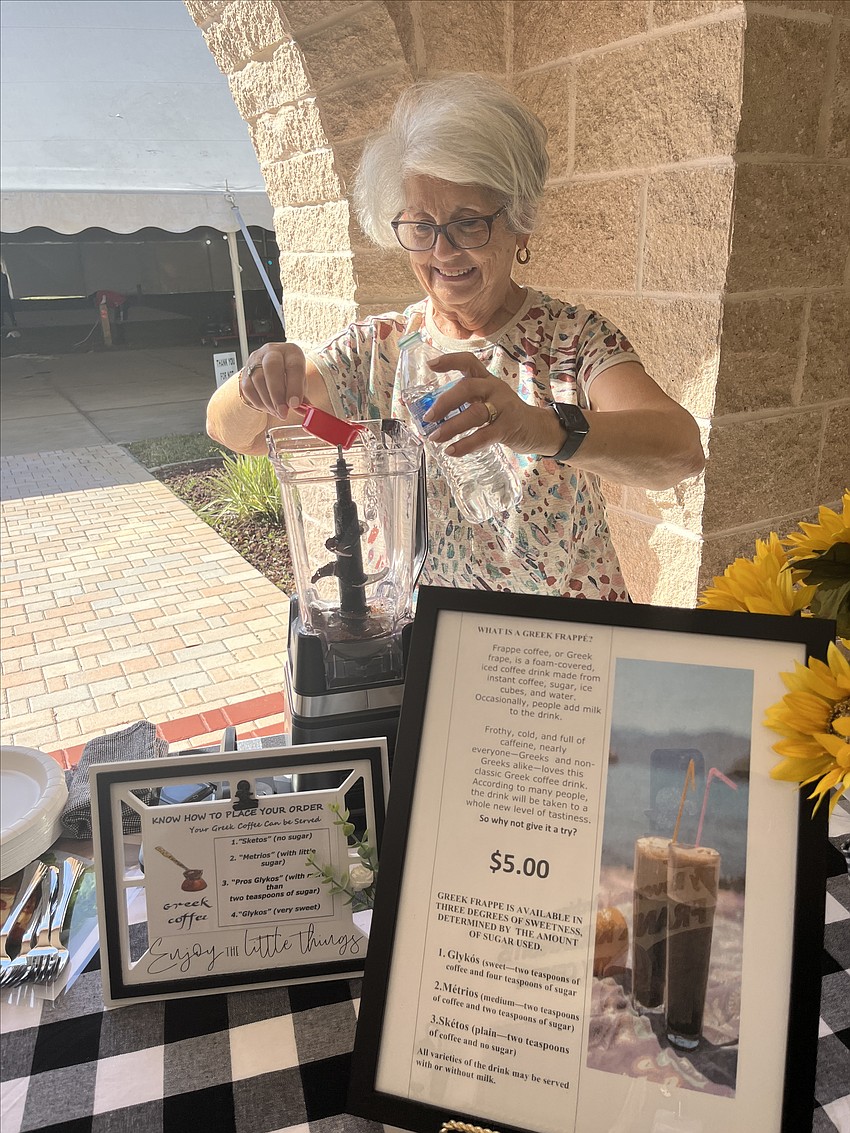 The Greek version of a frappé includes instant coffee, usually Nescafe, sugar and water. Milk, usually evaporated milk, can be added upon request. All the ingredients are mixed in a blender or cocktail shaker, and it's served with a straw so people can drink past the thick foam that forms at the top. 
The degree of sweetness in the frappé is dependent on the amount of sugar someone wants in it. 
Chimbos said it's the perfect drink if someone wants coffee but wants a cold drink. She suggests pairing it with one of the many pastries offered at the festival such as baklava. 
Chimbos said frappés have grown in popularity over the years across the world and first became known outside of Greece as a result of the 2004 Olympics in Athens, Greece.