It took another try and a new concept, but Courtney Rossler and Kevin Pass won Planning and Zoning Board approval for a restaurant on Longboat Key, the Lo'Key Island Grille.
The proposal was unanimously passed after over four hours of discussion and public comment. Residents filled Town Hall's commission chambers and many had to sit in the hallway until it was their turn to address the board. 
"We are proposing just a really beautiful, quaint, charming, friendly, happy atmosphere with a great menu — just a place you can call your own," Rossler said. "I really believe that I can give you guys something that you will appreciate, something that can benefit Longboat Key."
Pass owned a pest control company in Indiana before moving to the island in 2015. Rossler has been an employee of the Lazy Lobster for over 12 years and is a lifetime resident of the Sarasota area. 
Lazy Lobster owner Michael Garey spoke in favor of the restaurant proposal, touting Rossler's work ethic and personality. He predicted success for the restaurant should it garner full approval. 
Rossler, Pass and residents in favor of the restaurant spoke of the need for more restaurants on the Key to combat traffic and better serve residents and visitors looking to eat on the barrier island, especially during busy seasons. 
The majority of comments from the public were positive, thanking the pair for taking their concerns into consideration when developing the new plans. 
Rolling Waves Beach Cottages manager Shelley Harrison spoke in favor of the restaurant proposal as she said she often struggles with restaurant recommendations for her guests and tends to send them north to Anna Maria Island or south to Siesta Key. 
"In my opinion, it's not only an inconvenience to my guests due to traffic, but a great economic loss to the town of Longboat Key," she said. "I am strongly in support of Lo'Key Island Grille because I believe this venue will grow to be a very important part of the Longboat Key culture."
But much like the last time Rossler and Pass were in front of the board, residents expressed concerns about parking, traffic on the adjacent Tarawitt Drive, noise and use of nearby deeded beach access. 
"We would love to see Courtney live her dream, but being a resident (nearby), I just think it's the wrong place," resident James Taylor said. "The area is not zoned for a business of this type for a reason. It will negatively impact the peaceful enjoyment of property owners, who have chosen Longboat Key for its quiet, safe and family-oriented residential nature."
Town regulations prohibit amplified music and voices or sound audible 50 feet away from a home or establishment, which opposing residents said would be a likely issue with alcoholic beverages in the mix. 
Previously, the pair's plans were for a Tiki bar, but that changed after feedback from residents and the board in March 2022.
"We burned those plans and scattered the ashes," Pass said. "We will not be talking about a Tiki bar."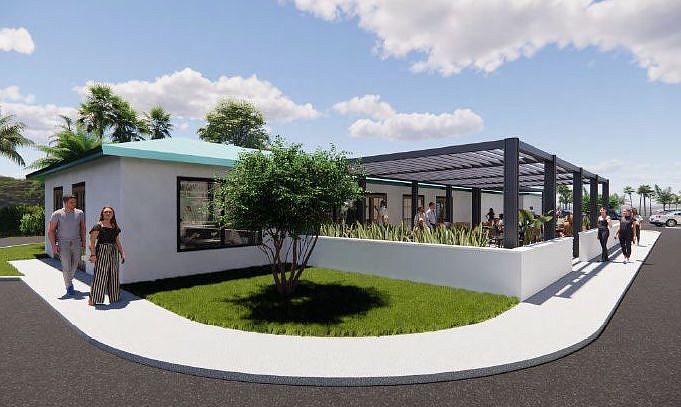 Lo'Key Island Grille, located at 5620 Gulf of Mexico Drive, is planned to be 3,692 square feet with a lounge and outdoor dining area. There will be 33 parking spaces, which is the exact number required by the town. The site was formerly the home of Tina's Beauty Salon, which closed in August 2021. 
"We want to support residents and businesses to bring more to the island, bring more services to the island," board member Paul Hylbert said. "We appreciate your intrepid efforts."
In Pass and Ressler's submitted plans, they indicated the intention to repave the parking lot and improve stormwater drainage on the site by providing a retention area. 
"We heard (the board's) concerns; we heard the neighbors' concerns," Pass said. "We have adjusted every aspect of the plans to those concerns."
A traffic impact analysis conducted by Wey Engineering deduced the restaurant would generate 226 new trips per day down Tarawitt Drive. Of those, 24 would occur during evening peak hours and are not anticipated to degrade the level of service of the road required by the town. 
"We don't want to be a traffic problem," Pass said. "I hate traffic as much as anybody."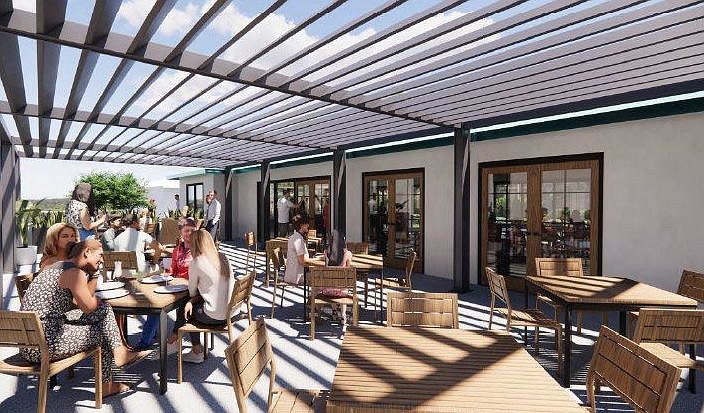 Contrary to previous plans for the site, which had nearly all outdoor seating, the ratio is a bit more balanced with 30 seats planned for outdoor dining and 57 for inside. 
The town has outdoor dining rules that state when an outdoor dining area is located within 250 feet of residential property, service in the outdoor dining area shall not begin before 8 a.m. and the area should be vacated by 10 p.m. 
The pair had already agreed to those conditions, which were made necessary by approved plans for a three-story, eight-unit condominium building across Tarawitt Drive to the north. 
During board deliberations, each member spoke in favor of the increase in restaurants available on the island and the applicant's willingness to adjust plans to address concerns raised. 
The board's approval of the restaurant is final and will not have to visit the Town Commission. 
Previous attempt
Rossler and Pass had their first hearing for their original idea, Lo'Key Tiki Bar, in March 2021. The plans were voted down and sent back to the drawing board. 
The previous plans included an open-air, roofed Tiki bar on the west side of the building at 5620 Gulf of Mexico Drive, to the edge of the property line. 
The owners planned 144 seats, all but five of which were planned within the open-air structure. 
"I'm worried about scale; I am worried about compatibility," board chair David Green said at last year's meeting. 
Some feared the Tiki bar would entice loud parties into the late evening hours. Residents also expressed fear that consuming alcoholic beverages so close to Gulf of Mexico Drive would increase pedestrian traffic across the state road, through private property and onto the beach.
Following concerns about the size of previous plans, Rossler and Pass opted to scale back the number of seats available in the restaurant as a whole and move the majority indoors. 
Correction: This article has been updated to clarify the restaurant plans will not have to go before Town Commissioners.