Being a busy mom often means a tight schedule with little wiggle room for working out. 
However, a few local classes prove that sometimes, it's possible to workout with the little ones in tow. We talked with three fitness instructors and some participants about local mom and baby workout classes to see what the benefits are. Hint: Moms realized that sometimes it's more than a workout. It's a community.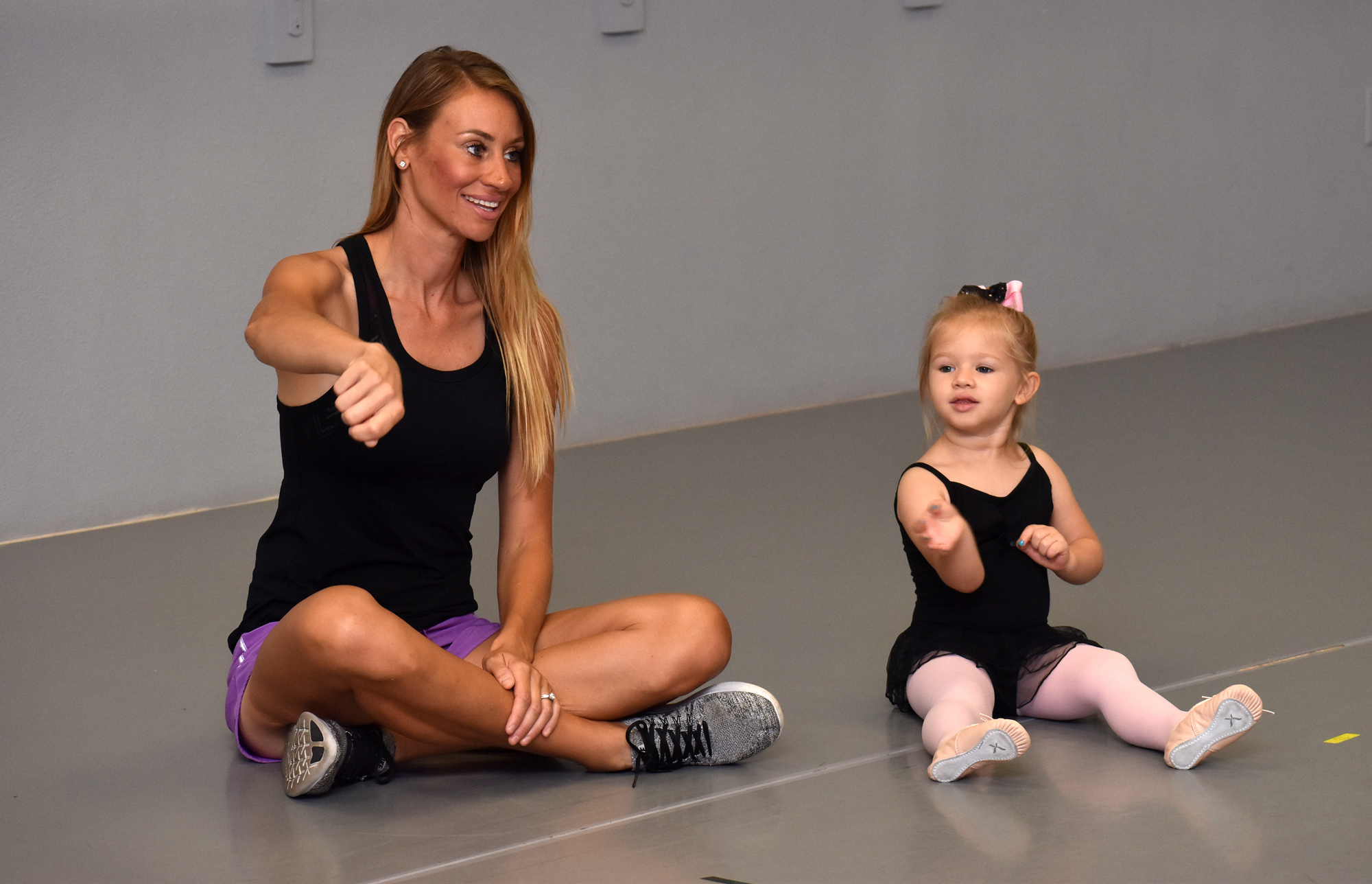 Mommy and Me Dance Class
Morgan Pinnix danced when she was younger, and she couldn't wait to share that experience with her daughter. Finally, Scarlett turned 2, so the pair enrolled in Sarasota Dance Academy's Mommy and Me Dance Class.
"One thing that we try to do is bring out their imagination and gross motor skills … bringing in some element that's going to apply to dance later on like jumping and the balancing and the galloping, and that kind of thing, just getting them aware of their bodies," said Rebecca Bryan, owner of Sarasota Dance Academy and instructor.
Pinnix said her daughter has always enjoyed dancing, but the class has made her more social, which is what Bryan aims for. 
At the end of each class, she allows for circle time where each child gets a turn to dance solo.
"It gets them into that mode of, 'Here I am, I can do this myself. I can dance and not be afraid to do in front of other people,'" she said.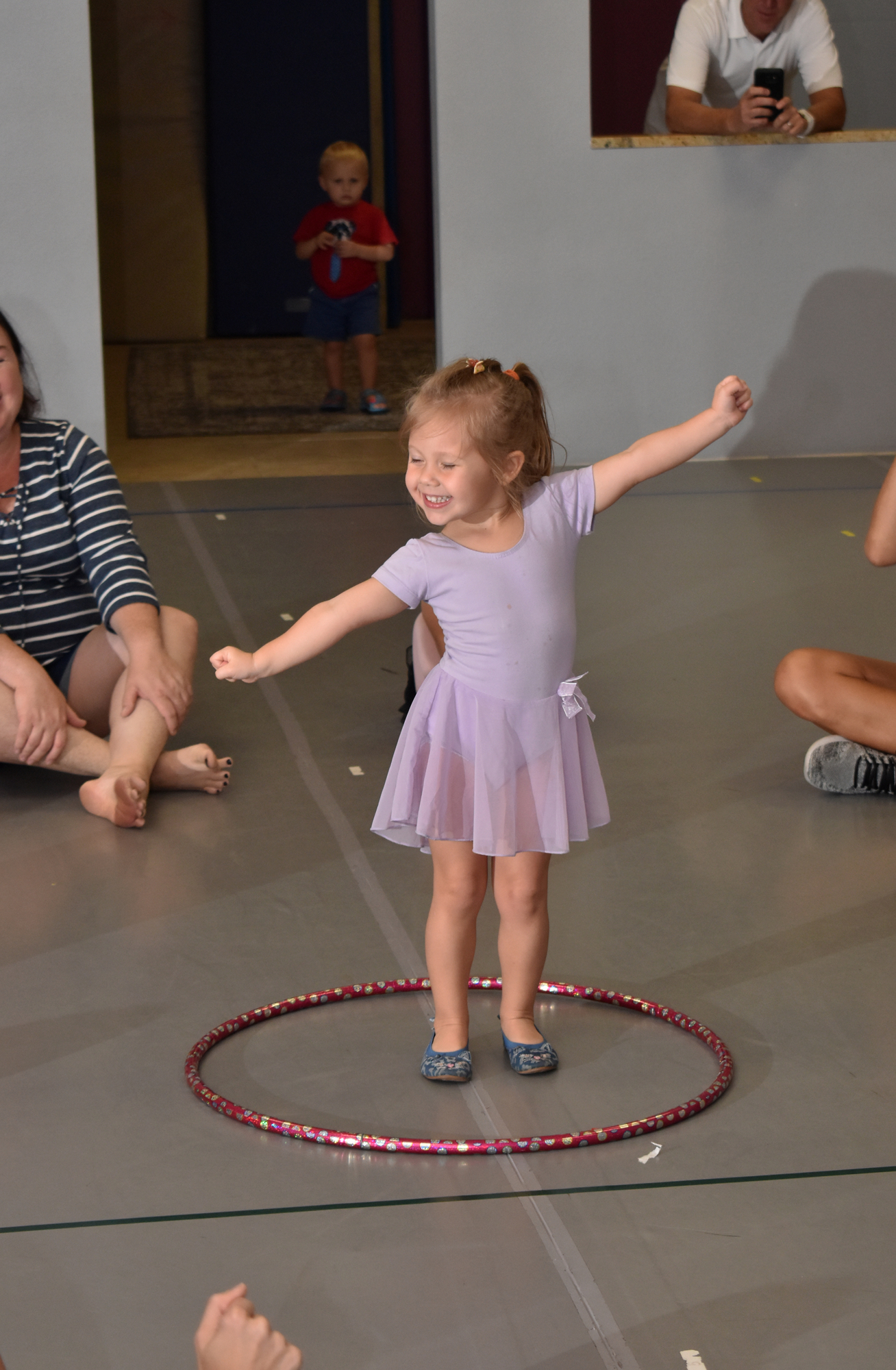 Every couple weeks, the class' theme changes. In the beginning of a circus-themed class, dancers and their moms practiced being different circus animals.
"Just crawling on the floor like lions, it's so good for their coordination of one hand in front of the other and building ab strength," Bryan said.
Bryan incorporates various equipment and instruments into classes. From tunnels and wands to tiaras and scarves, each week brings something different.
"I love how she incorporates colors and shapes," Pinnix said. "It's really educational. We already work on colors and shapes, so it really drives those things home because she doesn't go to day care."
Bryan said there's a difference between kids who learn these motor skills at a younger age than kids at 5 or 6.
"Whether you want to dance forever or not, it's just a great motor skill for them to learn," Bryan said.
For more information, visit sarasotadanceacademy.com.
Mommy and Me Yoga
Wendy Williams was searching for something to do with her youngest child when she came across Mommy and Me Yoga at Rosemary Court Yoga.
The class, which meets every Thursday morning, is led by Liana Sheintal Bryant, who originally taught the class with her son who is now 7. She teaches it now with her 2-year-old daughter.
Bryant, the owner, said the class is an opportunity for moms to bond with both their babies and other moms.
For Williams, the class was a good way to meet people after she and her family moved to the area. She said it's nice to participate because not only has she made friends, so has her daughter. Plus, the class helps her feel connected to her daughter and gives her a sense of self-care.
"I think emotionally, you feel like you were able to connect with your little one in a fun way without being distracted. Even if it's just a little bit of stretching, you're taking care of yourself," she said.
Bryant changes each class depending on the mood of the kids. If kids are more playful, she'll do more singing and playing. If the class is mostly babies in strollers, she gears the class toward the moms.
"It's also an opportunity to have a focus on kind of letting go and relaxing, bringing some calm into their day, and it's fun," she said. "It's a fun opportunity for the moms to do some yoga while their baby gets to have a good time playing with other babies."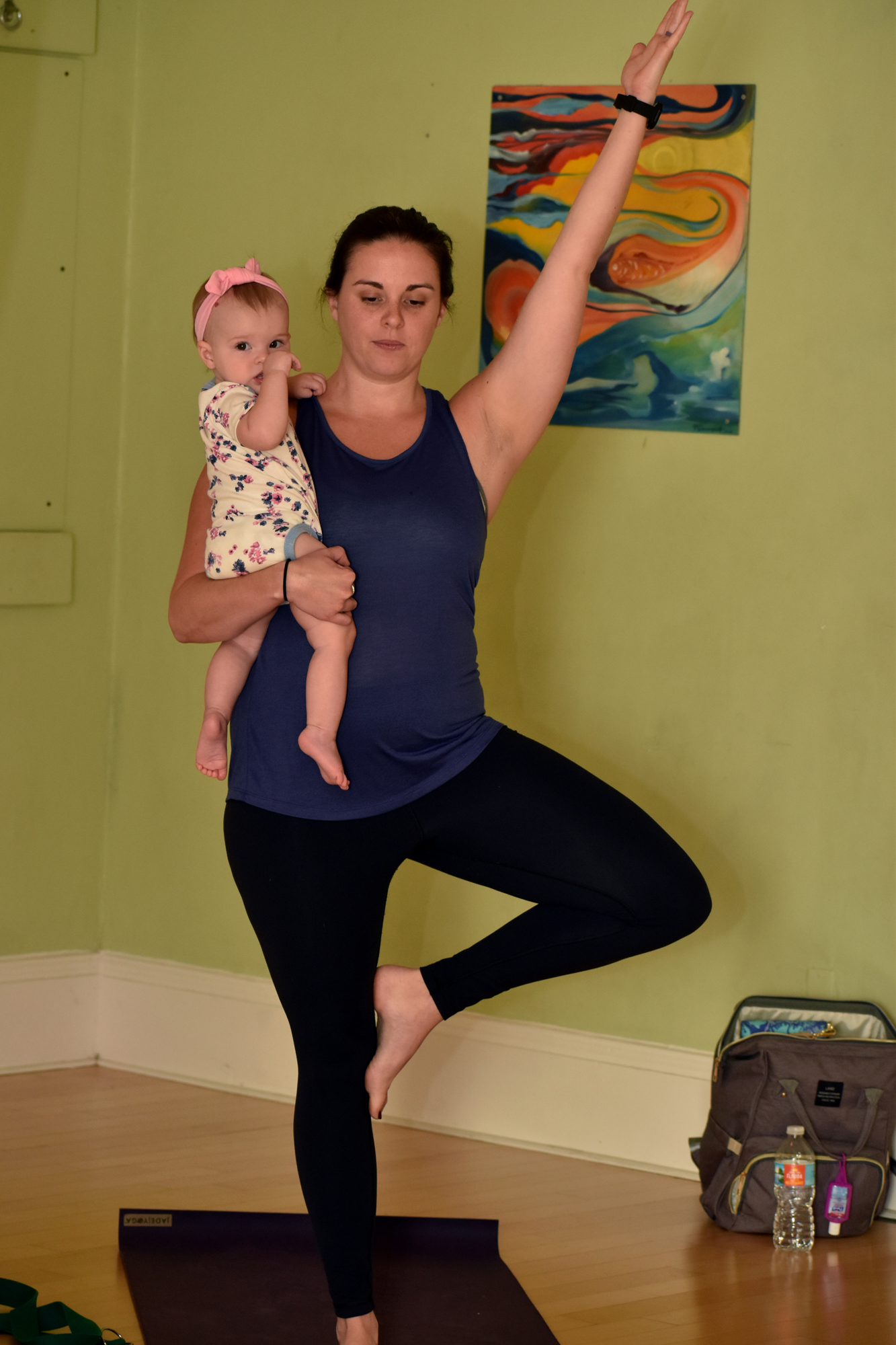 Bryant tends to keep the moves in class similar because sometimes babies will replicate the moves at home.
Bryant said her 2-year-old Rose's balance is pretty good. She's able to hold a tree pose.
"It also helps maintain some of the flexibility that babies are naturally born with and plants a seed to have a yoga practice throughout their life," she said.
Jessica Burton attends the yoga class with her 2-year-old, but she also teaches the prenatal yoga class at Rosemary Court Yoga.
"It's a time to relax and breathe," she said. "Really giving themselves the space to take care of themselves. Self-care is a huge thing."
Overall, Burton said the class helps her chill out, while introducing her to moms to talk about breastfeeding or any emotional challenges. Bryant leaves time at the end of class for moms and their toddlers to socialize.
For more information, visit rosemarycourt.com.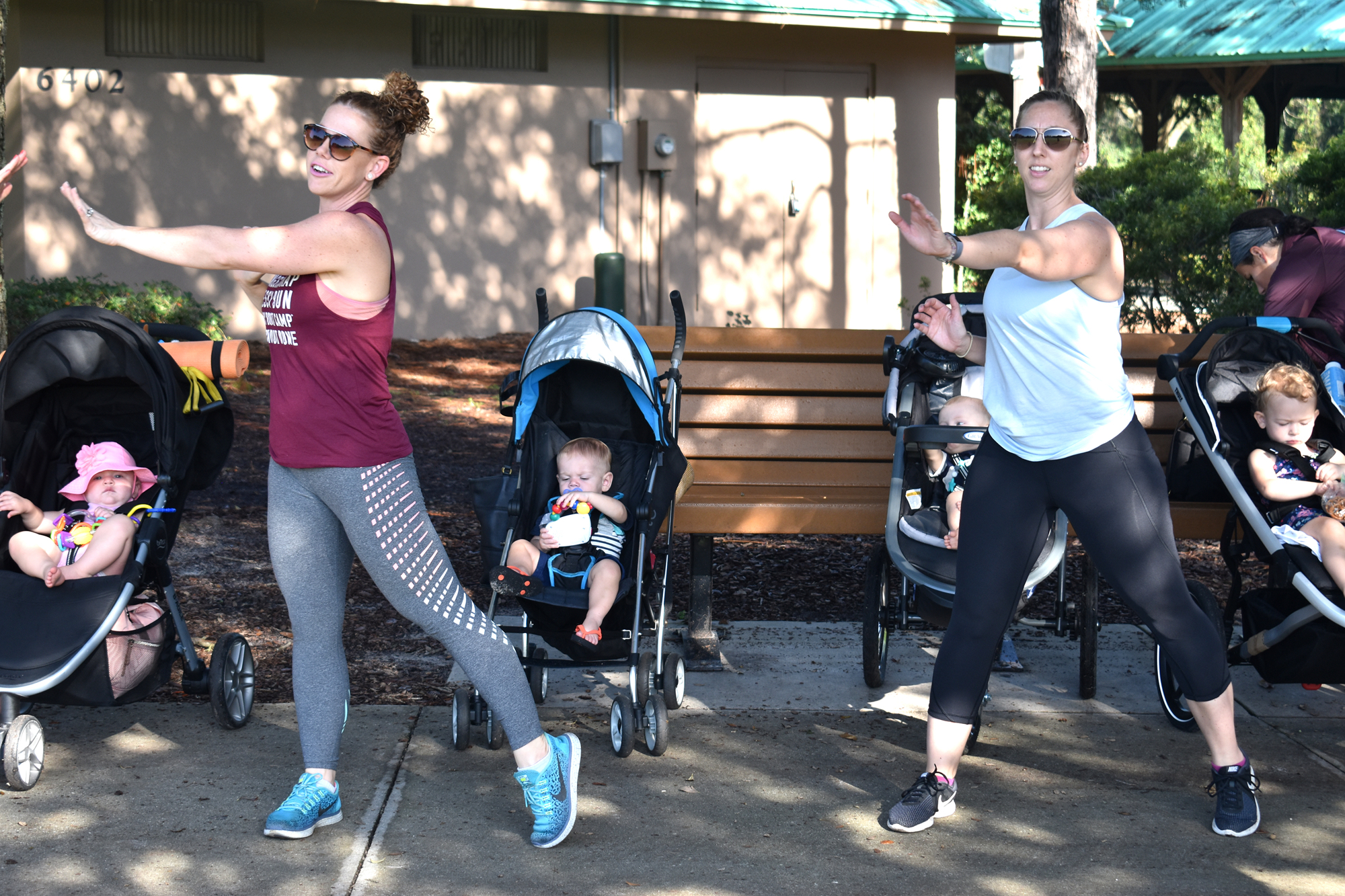 Baby Boot Camp
Baby Boot Camp was started 17 years ago by a mom who wanted to workout but didn't want to have to pay for child care.
Fast forward to present day and there are now about 100 franchises, including one in Sarasota. Haley Wells bought the Sarasota franchise a year ago.
The class is 60 minutes with cardio, strength and core training. All moms are welcome, pregnant or not. If they are participating post-pregnancy, they need to be six to eight weeks postpartum.
While the moms work out, the tykes sit in their strollers. However, the final 15 minutes of class, the kids can either run around or lie on a yoga mat with mom.
"Some kids have a bad day and are crying in class, and we get it," Wells said. "We don't care. If a baby cries, a baby cries. It's not a big deal. We've all been there."
Wells mixes up the workouts each session so moms are rarely doing the same workout. Moms use equipment such as tubes and bands that can be put on their arms and legs as resistance.
Jessica Quaid, who has been doing the boot camps for two years, joined the class the day after she moved to Lakewood Ranch. At the time, she had a 4-month-old and was looking to lose baby weight and make friends.
Once she lost the baby weight, Quaid used the boot camp as cross-training for running, using it as  a core workout.
"I [credit] Baby Boot Camp as the sole reason why I've been able to get back into working out pretty much right away after [having a] baby," Quaid said.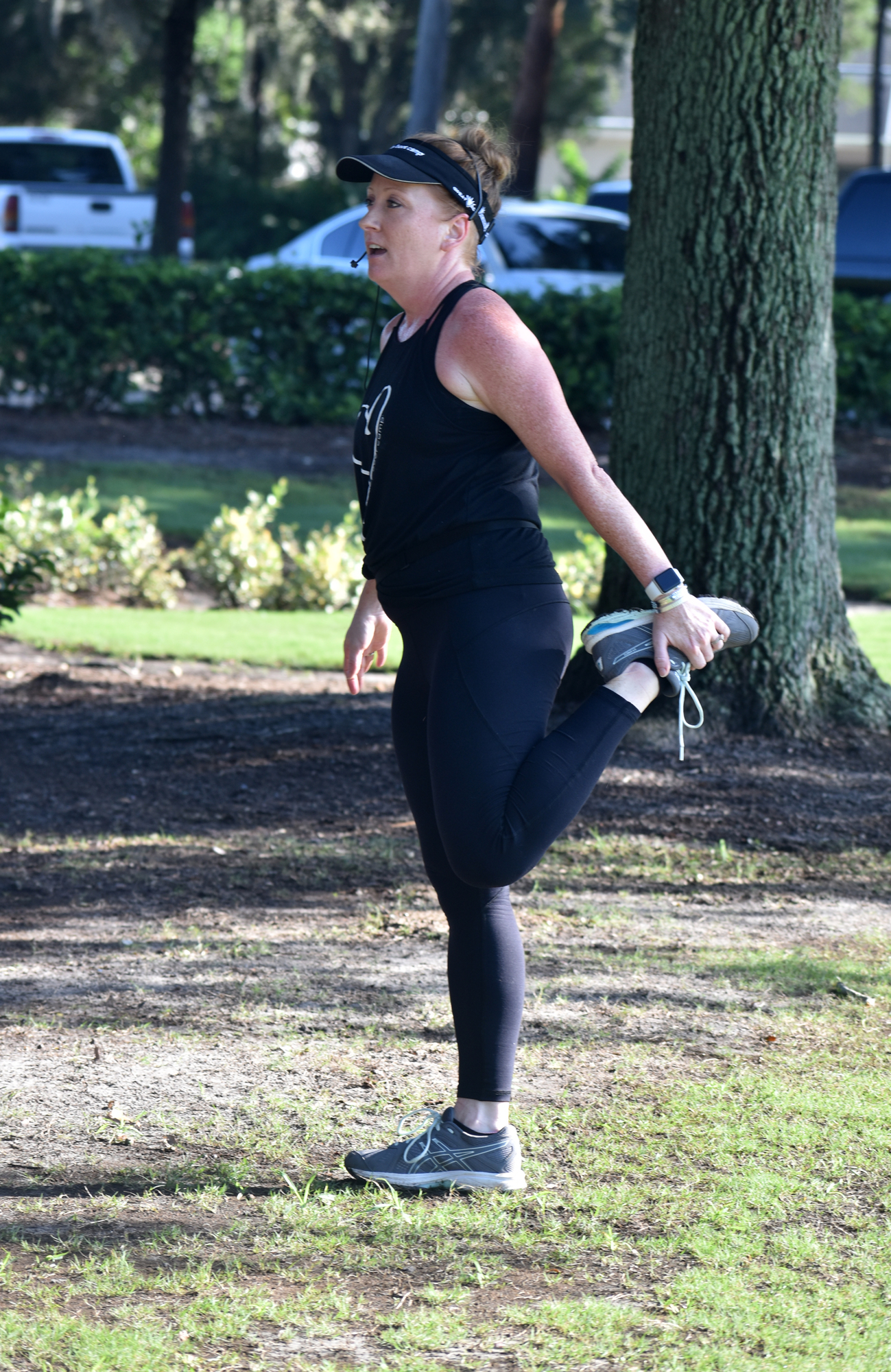 Rebecca Siff-Saiger, who is not only a participant but also an instructor, joined the group in November 2017. It gives her a workout and keeps her and her son in a routine.
"I'd say a routine is a big part," she said. "As a new mom, everything is a whirlwind. You have no idea what time it is or what day it is."
And like Quaid, it's how she's been able to make other "mom friends." Wells is also a relative newcomer. She moved here a year ago. She calls teaching boot camp the best job. Plus, it  introduced her to all her friends.
"Some moms come for the workout, but it's more just getting out of the house, meeting other moms," Wells said. "It's more of a support group for moms than anything."
Baby Boot Camp is open to all fitness levels. For class times and more information, visit babybootcamp.com.