Don Olinger can see peripherally, but the center of his vision is gone due to Stargardt's disease, a hereditary disorder that causes macular degeneration in the central portion of the retina.
His close friend and roommate, Tracy Rhodes, has the opposite problem:
She has retinitis pigmentosa. Essentially, she has tunnel vision, as she can see what's directly in front of her but nothing to the side.
"We joked, we can drive," she said. "Between the two of us, we have perfect vision."
Their complementary blindness gives them a symbiotic relationship, Olinger said. They grocery shop together, help each other with mail and even picked out a TV from Best Buy that they would both be able to see.
Their independent lifestyle is possible because of Gary and Ralphie, their guide dogs who live with them at The Tuscany.
Olinger, 64, and Rhodes, 48, met in 2013 during the 26-day Southeastern Guide Dogs training class, which teaches participants how to work with and care for their new guide dogs. Both were looking for understanding and freedom. Rhodes had been homebound for 10 years in North Carolina as her eyesight slowly deteriorated; Olinger resided in an independent living facility in Fort Myers.
For both Olinger and Rhodes, it was the first time they had been paired with a guide dog.
Before pairing an individual with a dog, Southeastern Gude Dog staff interviews him or her to determine what type of dog will suit them in a process Olinger compares to a dating service.
Staffers asked him what kind of dog he wanted.
"I said, a Rottweiler," Olinger said. "The guy said, 'We don't do Rottweilers.'"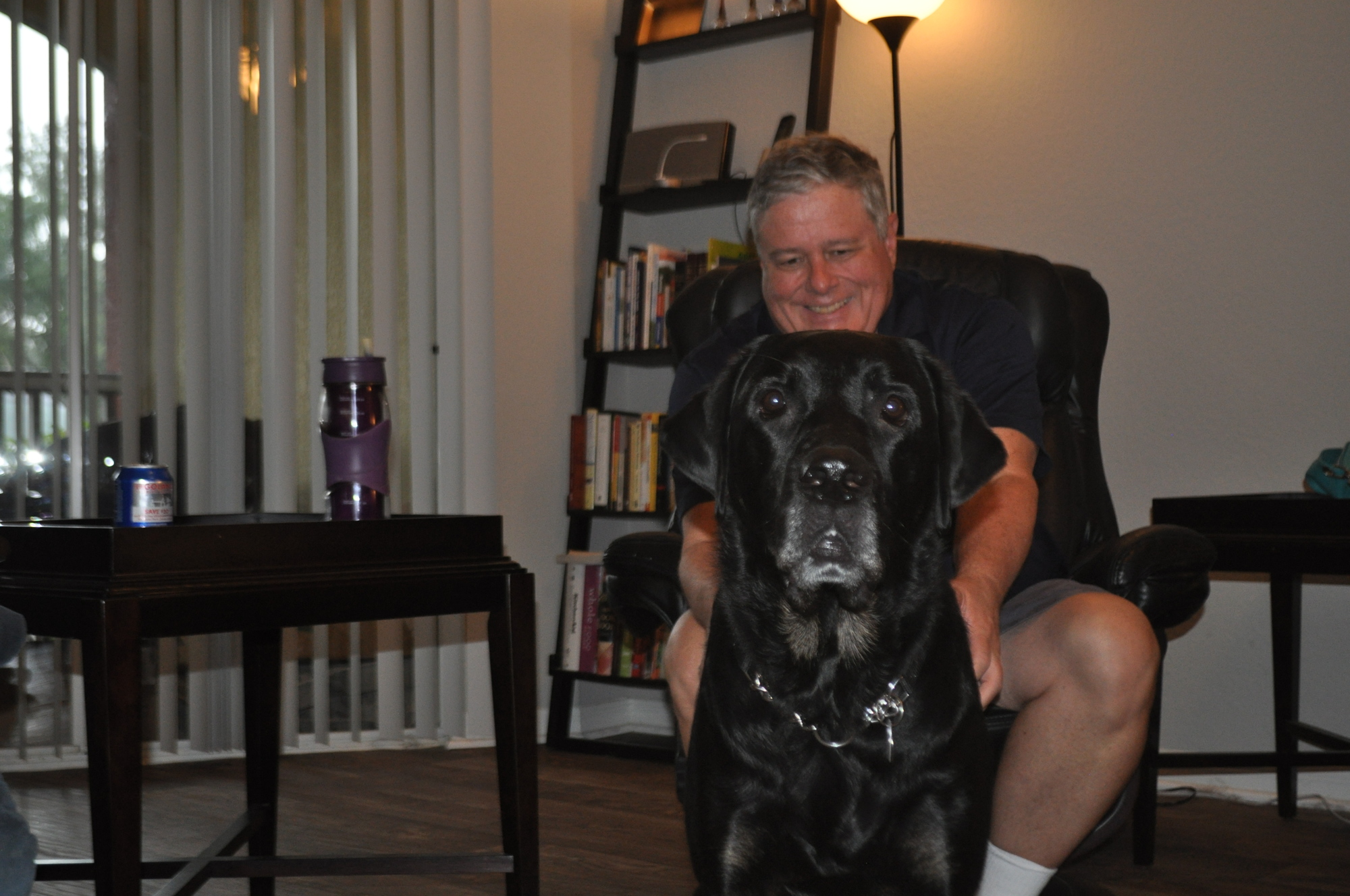 Ollinger was paired with Ralphie — a Labrador retriever with a rare tri-color coat that' similar to a Rottweiler.
"They said, 'We couldn't get you a Rott. This is as close as we could get.'"
Rhodes told staff she didn't want a golden retriever because of a single previous encounter with the breed. Still, the organization paired her with Gary, an English-cream colored golden retriever, asking that she give him a try for 48 hours.
"He sat down, looked up at me, and I looked at him, and I said, 'Well, you're cute,'" Rhodes said.
Gary officially won Rhodes over the next morning, when she woke up and saw him laying on his back, feet splayed out and tongue dangling, waiting for her. She couldn't help but laugh.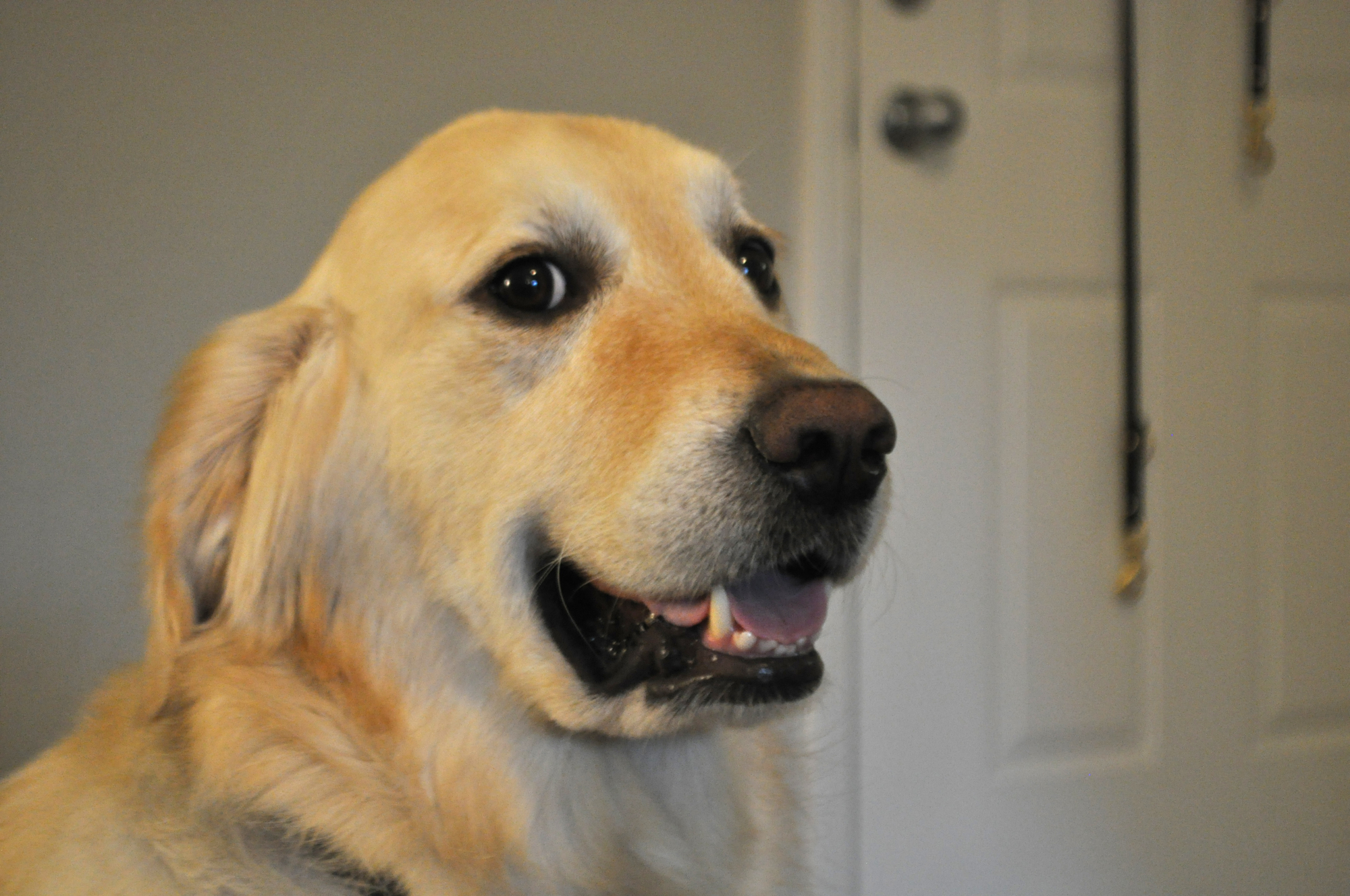 In addition to building their working relationship with their dogs over the 26 days, Olinger and Rhodes built their friendship.
They became the comedic relief of their eight-student class, relieving their anxiety about getting their animals with jokes.
"The dogs already know 40-plus commands," said Rhodes. "I worried, what if I break this dog?"
Olinger and Rhodes stayed in contact even after they returned to Fort Myers and North Carolina, respectively.
They always joked about being roommates, Rhodes said, but those talks turned serious.
When Olinger decided to try living truly independently and Rhodes' last child moved out, they decided to do it: They moved in together in an apartment on University Parkway in May.
"I left North Carolina with a backpack, a suitcase and Gary. Twenty-nine hours later, I was starting a new life here," Rhodes said.
Now, thanks to their dogs — and the understanding and support of each other — the two friends are both branching out.
Olinger does volunteer work for Southeastern and speaks about the nonprofit and his condition to other organizations and schools. As a retired minister, public speaking comes easy to him. But Ralphie — whom Olinger has nicknamed "Clown Prince" — has taken on a new unofficial role: timekeeper. If Olinger speaks longer than 15 minutes, the 75-pound lab lets out a long, bored moan. One time, he even picked up his own leash and walked to the door.
Olinger saved enough money this year to name a guide dog, an opportunity that's available to individuals and organizations with a $5,000 donation. He chose the name Skylar in honor of his niece, who first started researching guide dogs when she was 7 — because she wanted to help her Uncle Don get a dog.
Rhodes started working part-time for Southeastern on Wednesday—her first job in 10 years. She's ecstatic to not only be financially self-sufficient, but also to work for the organization that changed her life, she said. 
"I'm excited at being the person who gets to greet people to Southeastern Guide Dogs," she said. "I feel smart, capable and alive again."