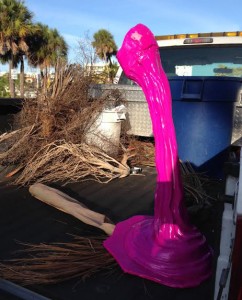 When it comes to April Fools' Day pranks, it appears nobody is safe — not even the "Unconditional Surrender" statue on the Sarasota bayfront.
According to the Sarasota Police Department, SPD personnel and city employees found the statue in a bit of a sticky situation this morning.
An artistically inclined prankster decided to take some artistic license with the statue, adding a plaster wad of pink chewing gum under the woman's heel.
Police say since the prank caused no damage, it's being considered criminal mischief, not vandalism.