Whisper Bend's Melissa Wandall stood at the corner of State Road 70 and Tara Boulevard Nov. 17 surrounded by members of local law enforcement.
It was at that same spot 20 years ago when she rushed to the intersection because her husband, Mark, had been in a bad accident when a driver ran the red light and T-boned his car. Her brother, Philip Wolfe, also was in the car.
She was nine months pregnant at the time.
"It didn't look like my husband was going to make it," Wandall said. "I was pleading with God not to take my husband. He passed away at the scene, and I was able to say goodbye and tell him I would make sure our baby would be raised as a happy baby and she would be born in love and light."
It was a life altering moment for Wandall and her daughter, Madisyn, who was born 19 days after her father died. 
Since her husband's death, Wandall has been an advocate for safe driving and implementing proactive measures to prevent car accident fatalities and injuries.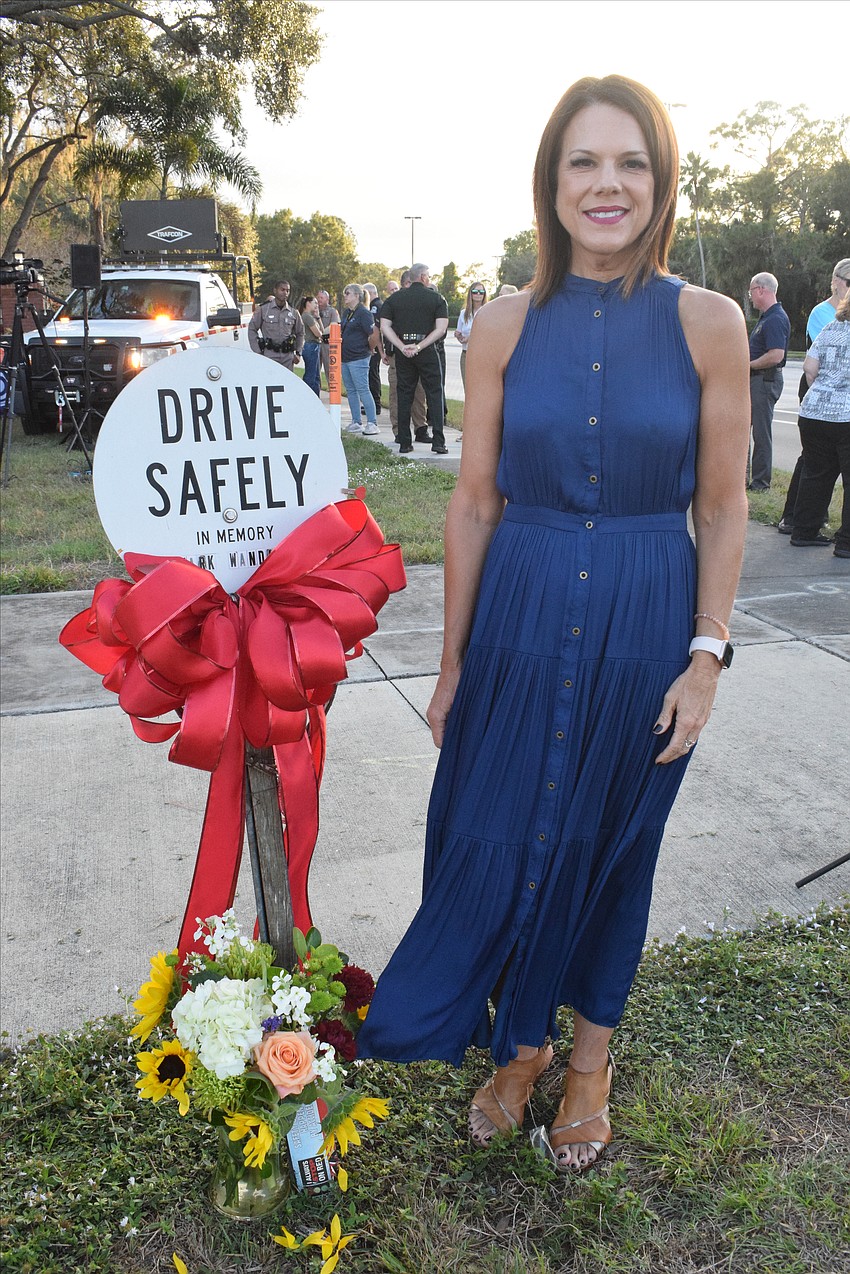 She now serves as an ambassador for Target Zero Florida, an initiative with the goal of having zero fatalities and serious injuries as a result of a car accident. 
She joined law enforcement officers, community members and individuals with the Florida Department of Transportation to honor individuals killed or seriously injured in a car accident as part of World Day of Remembrance for Road Traffic Victims.
The day memorializes those who have died and honors those seriously injured on Florida roadways. 
Candles spelling out "zero" were on the sidewalk. Each candle represented more than 100 people who have died on Florida roadways in the past 10 years.
"We are not untouchable, not any one of us," Wandall said. "You can leave the house in the morning and not come back. My husband was just going out to get a bite to eat. We did good in life. We'd been married for a year and five days. We always knew things can happen in life, but we never took it for granted. … (My daughter) doesn't even begin to know who her father was, and it's the saddest part of it."
Corporal David Brunner with the Florida Highway Patrol remembered being at the scene of Mark Wandall's accident. Brunner, who was a homicide investigator at the time, said he saw Melissa Wandall standing on the corner "in disbelief for what had just happened."
"I had no answers for the questions she had," he said. "I had not yet been able to tell her anything since the crash was still under investigation. Think of that for a moment. You have so many questions from the most traumatic event you're going through at that moment, and you can't get answers."
Brunner was the one to tell Wandall her husband was killed by a distracted driver, who took her eyes off the road to retrieve a sippy cup from the floorboard of her car. 
"I can tell you thousands of stories of these crashes and the impacts on the drivers, their passengers and their loved ones, but that does not even begin to touch the real impact — the devastation of those who felt the loss left behind," he said. 
Manatee County Sheriff Rick Wells also was on the scene of Mark Wandall's accident. Remembering the scene made him angry, he said. 
"I become angry because what happened here 20 years ago was avoidable," he said. "One careless driver that did not care about the others around has devastated a family. If I have one message here tonight is, ladies and gentlemen, we have to do better. It's going to take the entire community understanding that lives are changed in one split second."
Brunner, Wells and Ketih Robbins, a district safety administrator for the Florida Department of Transportation, all said the biggest factor on the road is the human element. They encouraged people to put down their phones, be mindful of their surroundings and focus on driving when they are on the road. 
"There's only so much engineering we can do to fix a road or make our roads safer," Robbins said. "Law enforcement can do things, but there's only so much they can do. Ultimately, it comes down to the driver behind the wheel. Human behavior is the No. 1 cause for crashes on roadways."
Brunner said there are three ways to save lives on the road— passing sensible and forceful laws to stop distracted drivers; enforcing the laws on the roadways; and continually educating individuals on driving safety.
"The roadways today are becoming more and more like a war zone," Brunner said. "Everyone has seen that reckless driver darting in and out of traffic with their cell phone in their hand. We need law enforcement officers to be proactive, not reactive. We need to find ways to stop these dangerous drivers before they kill themselves and someone else."