Tequila might not always be the answer, but it's worth a shot – especially on National Margarita Day, which Google tells me is Feb. 22.
Nowadays you see alcohol aficionados ordering espresso martinis with tequila instead of vodka (or is that just me?). The high visibility of celebrity created tequilas is impossible to miss (try Kendall Jenner's 818 Añejo), and restaurant cocktail menus that were once drowning in generic gin offerings have remolded themselves to pour agave-based cocktails for your liking.
Good tequila is tasty alone, but when morphing itself into a margarita, it becomes an exciting experience for all drinkers involved — or at least the ones who know their lime-infused-liquid limit.
Here are three tasty local tequila spots — in St. Armands Circle, downtown Sarasota and Lakewood Ranch — that you need to try on National Margarita Day.
Tommy Bahama Restaurant
300 John Ringling Blvd., St. Armands Circle; 941-388-2888; TommyBahama.com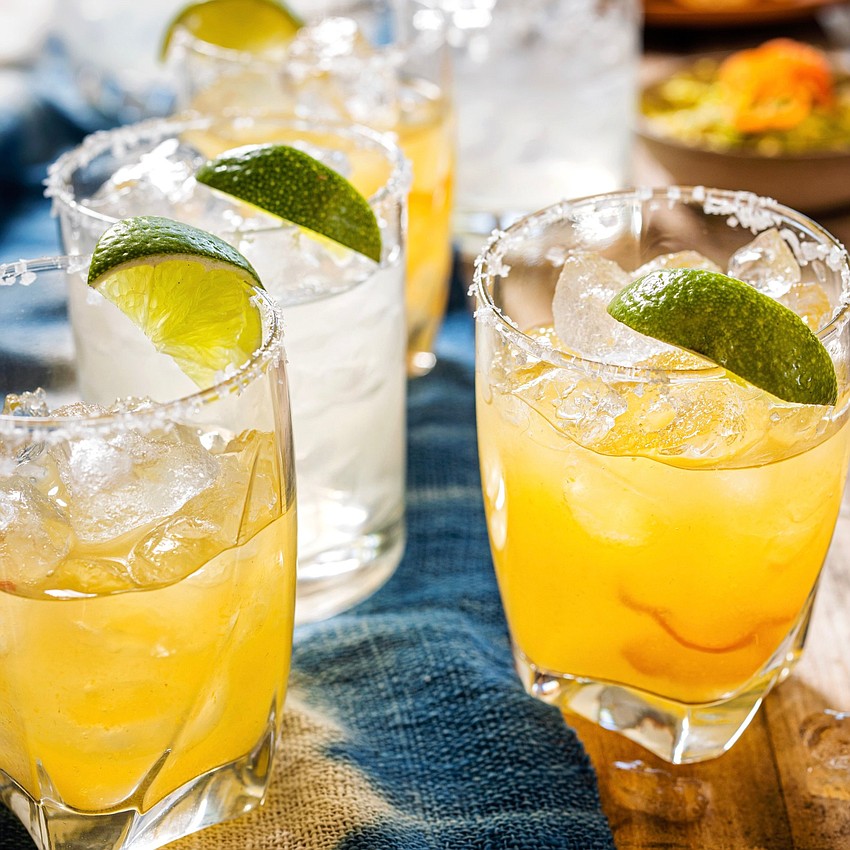 Why It's Worth a Shot: You've heard the saying we live where people vacation and that is always true at the Tommy Bahama's restaurant and bar on St. Armands Circle. As you wait for your reservation, locals are sure to immediately spot the non-residents eating the worth-every-bite coconut shrimp ($13+). But when you are greeted by the staff decked out in trademarked floral shirts, then you waltz to the bar area with music loud enough for the entire Circle to hear and eventually sip on your own Instagram-worthy cocktail of choice, you too can pretend you're on holiday, even if it is 6 p.m. on a Tuesday.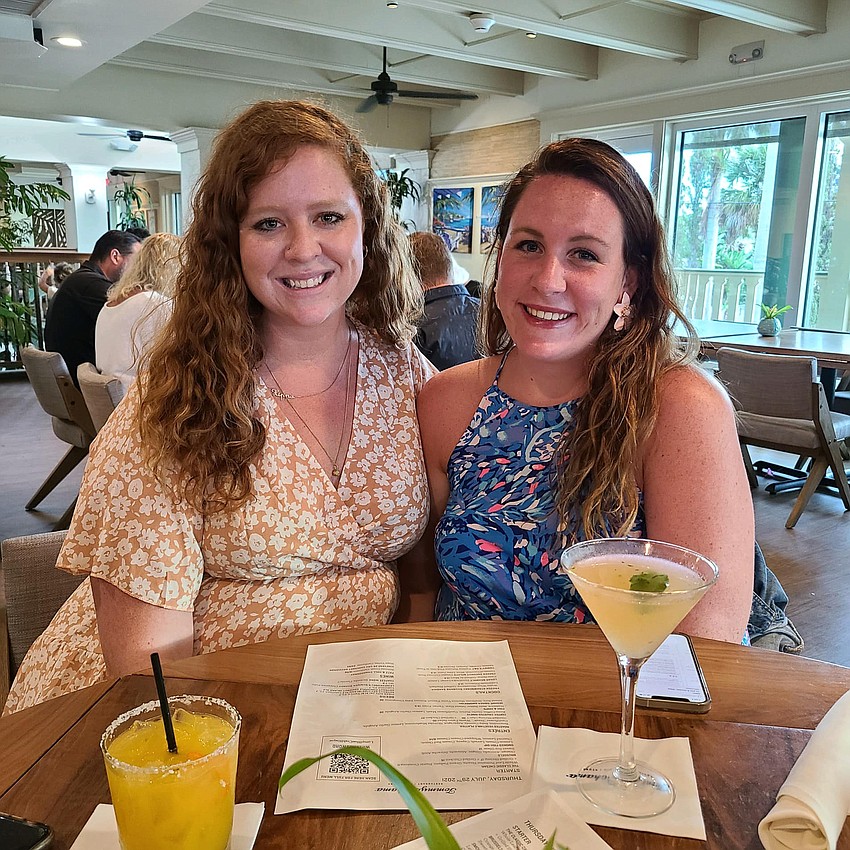 No Pour Decision: From the blood orange margarita ($14, made with Sauza, Solerno blood orange liqueur, blood orange and scratch sour) to the baja margarita ($13.50, made with Sauza Conmemorativo Añejo, Cointreau, Grand Marnier, scratch sour and lime) to the raspberry jalapeno paloma ($13.50, made with Milagro Silver, raspberry, lime and cane syrup) Tommy has tequila taken care of.
The Perfect Pair: Tequila plays best with others. Snack on shareables like the coconut-crusted crab cakes ($23) with a chipotle remoulade and island slaw, or order the warm goat cheese dip ($14) with a mango salsa to soak up those lime-infused cocktails. Staying for dinner? Go ahead and order my mother's favorite meal of all time, the snapper crusted in macadamia nut served with almond rice and grilled asparagus ($35).
Circo
1435 Second St., Sarasota; 941-253-0978; CircoSRQ.com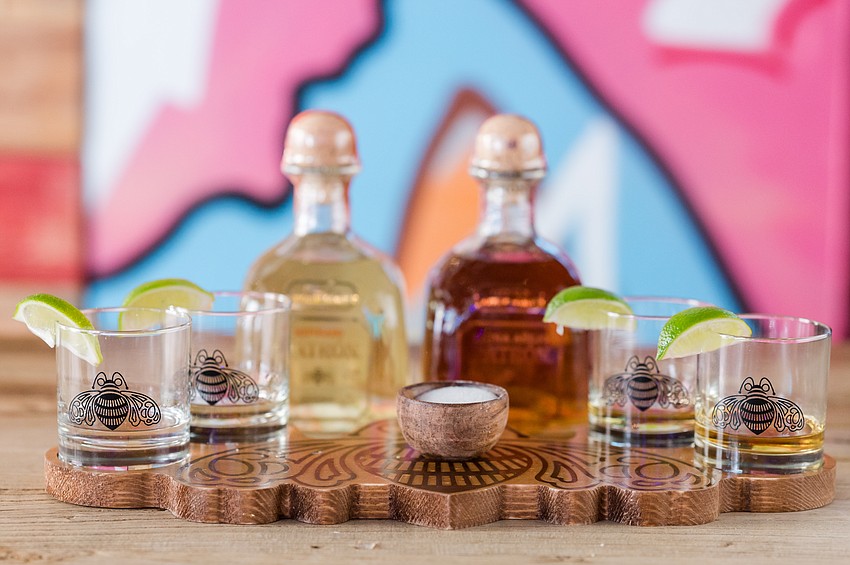 Why It's Worth a Shot: With the Make Your Own Margarita opportunity, it's surely a tipsy time at Circo. First, drinkers pick one of the 12 standard tequilas including Casamigos, Don Julio, Patron and more — or you can choose your fate with another brand from their bar. Second, sign up for a signature flavor from fresh hand-muddled jalapeno or desert pear to classics like strawberry or mango and more. Next, your glass can be rimmed with sugar or pink Himalayan, chili lime, smoked or siracha salt. Lastly, if you're feeling frisky ask about their floaters. Order your margaritas by the glass or by the jug!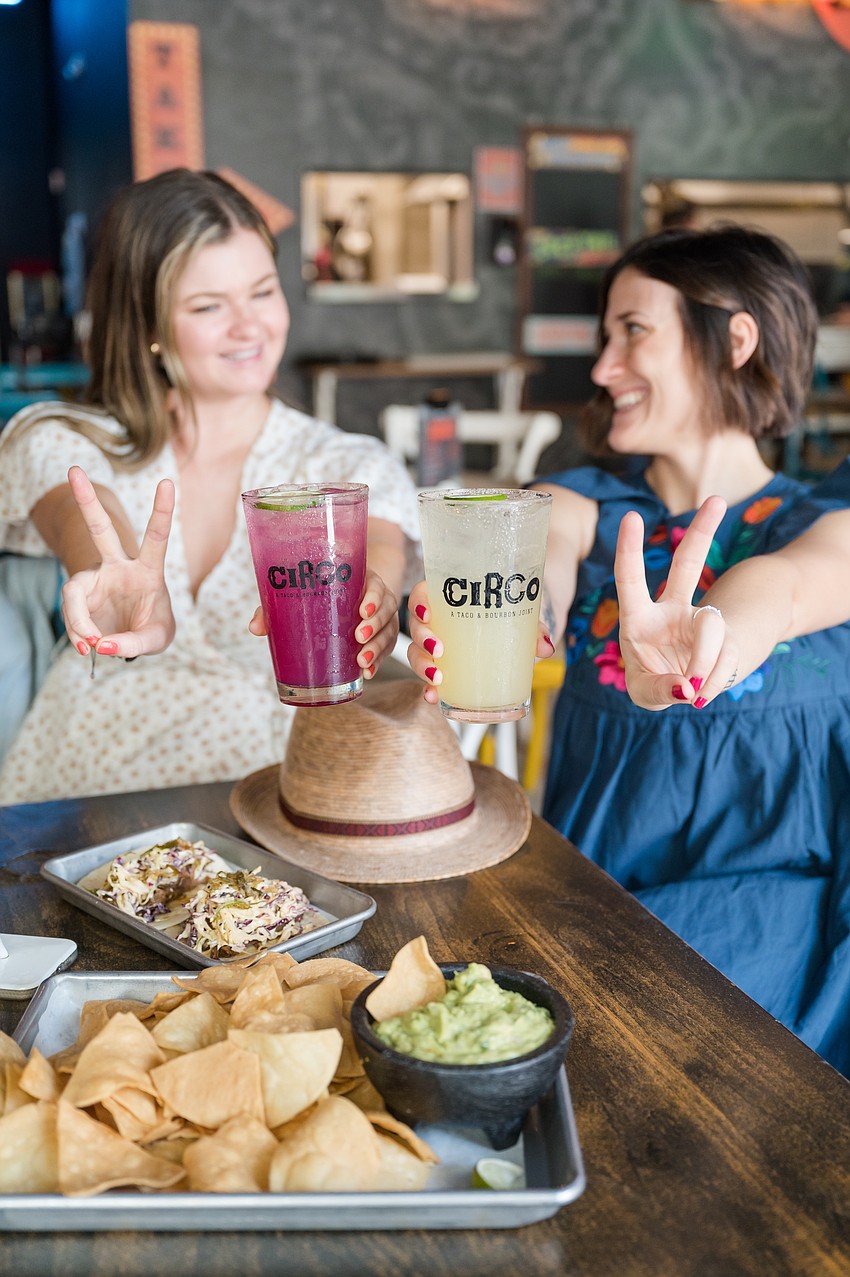 No Pour Decision: And for those who are absolutely refusing tequila, Circo offers bourbon-based margaritas too. Fun Fact: Circo will also be offering $5 margs all day on Feb. 22. All I ask is that you don't drive yourself and make sure you delete your ex's phone number to ensure tequila enjoyment for the entirety of this holiday.
The Perfect Pair: Chip, chip, hooray! Order the elote corn salsa ($9), goat cheese guacamole ($12) or the queso fun-dido ($10). Let's taco-bout your main meal if you're slurping down margaritas all day. My personal favorites, since you asked, are the edamame falafel ($5.50) with tzatziki, arugula, (no) tomato, pickled veggies and avocado or the Korean TT ($6) with pork, angry crema, kimchee slaw and pickled peppers. But whatever you do, don't leave without churros ($7+).
Takos Cantina
5770 Ranch Lake Blvd., Lakewood Ranch; 941-201-6594; TakosCantina.com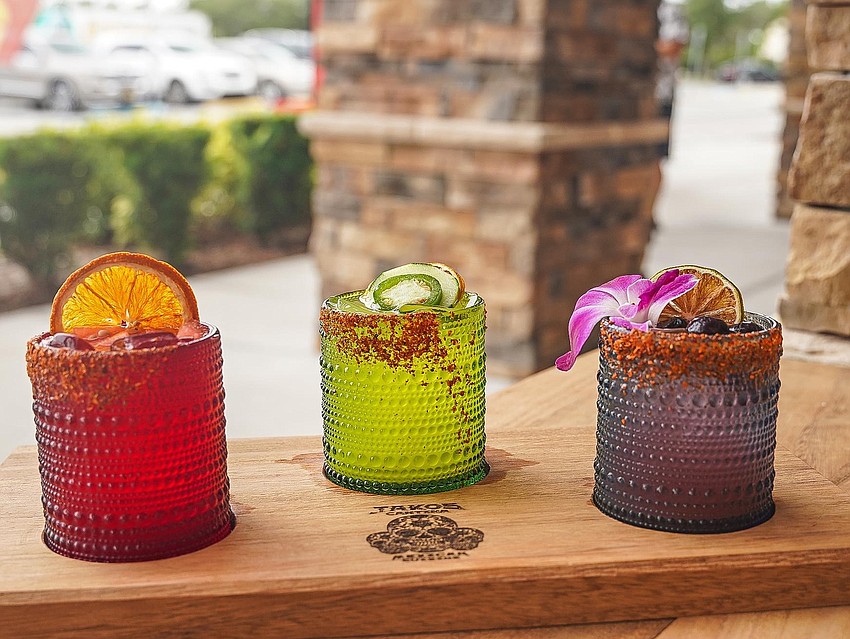 Why It's Worth a Shot: Marg my words, readers, these dangerously delicious drinks are not only some of the tastiest in town, but also the price can't be beat. For $12-$13, you can make mezcal or tequila drinks that pair perfectly with the chips and salsa that keep magically refilling at your table. Plus, this family-owned business serves up some of the best Mexican food I've tasted in Florida. But first, margaritas.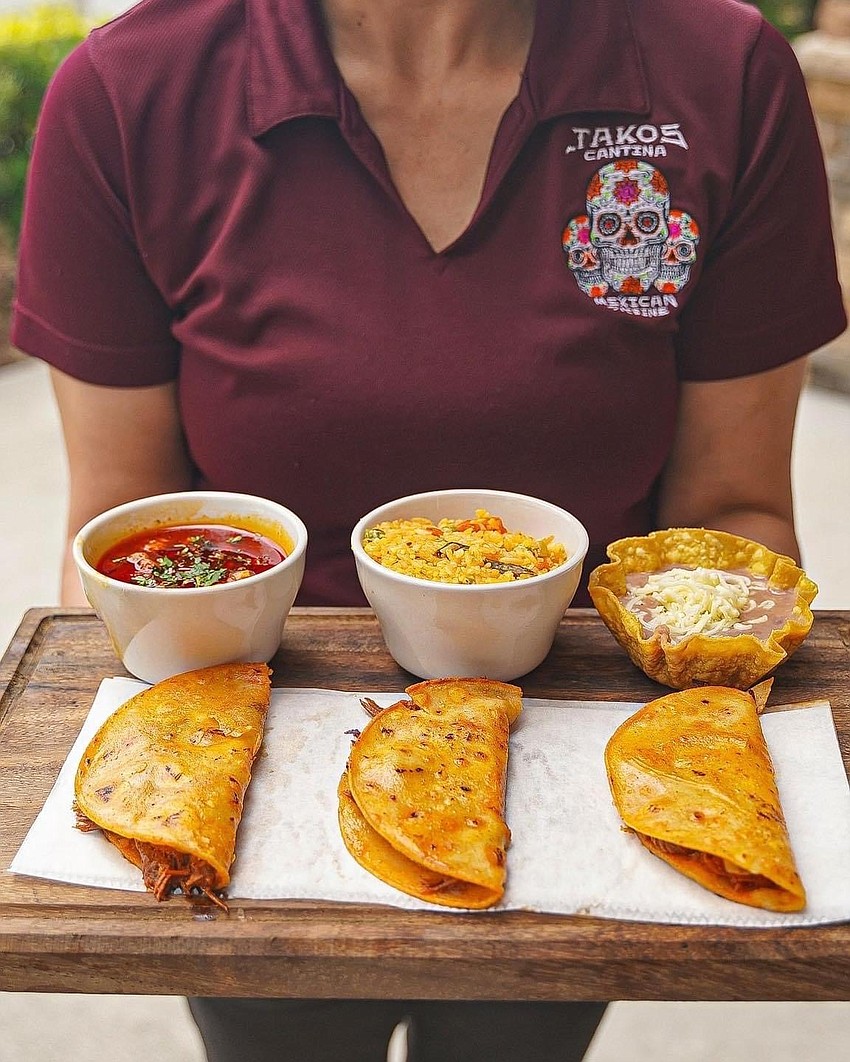 No Pour Decision: Ask for the Tres Marias ($21), and you will be tres happy. This trifecta flight is full-size, full-pour and full-y affordable. Sip on the blueberry ($12) made with tequila blanco, agave nectar, blueberries and fresh lime juice; wash down chips with the watermelon (not featured on their drink menu); and enjoy the jalapeno pepino ($12) made with Espolon tequila, jalapeno cucumber liquor, agave and fresh squeeze lime. But if the big-three makes you a tad nervous, go with the Smoky Rita ($12) with mezcal, lime, orange crema, agave and charred pineapple.
The Perfect Pair: While the appetizers like the esquite guacamole ($11) made me giddy, I suggest you save room for an epic entree because the portions are plentiful. My pick is the enchiladas suizas ($14). These little tortilla bundles come with your choice of ground beef, shredded beef or chicken (I went with shredded chicken) and are topped with green sauce and Jack cheese. Next time I'm ordering the birria tacos ($14), since the pleased patron behind my booth continued to mention how delicious they were in between every single bite.