In the aftermath of Hurricane Irma, the Observer will provide updates and resources to keep you informed about the impacts from the storm.
Please note: delivery of the paper has been delayed one day due to the storm. In the meantime, please visit yourobserver.com for updating news and information. For reporting on Hurricane Irma, please scroll below.
Irma Photo Galleries:
- Sarasota residents breath a sigh of relief after Irma
- Barrier island emerge relatively unscathed
Previous updates (in chronological order):
Sarasota and Manatee counties: Schools for both Sarasota and Manatee County will be closed the rest of the week and will reopen on Monday, Sept. 18
Longboat Key: The island's boil water advisory was lifted Thursday afternoon. Residents are still advised to run water through pipes for several minutes and dispose of ice produced in the past few days.
All areas: Millions of Floridians, including thousands in Manatee and Sarasota counties, are still without power as of Wednesday morning
Sarasota County: Though residents have returned to their homes and drivers are filling the roads, officials warn the "all-clear" has not been given as of Wednesday morning, in large part due to powerless traffic lights
Manatee County: Public schools will be closed through the rest of the week and will resume class on Monday, Sept. 18
Longboat Key: The island is still under a boil water advisory as of Tuesday afternoon. Power is still out on parts of the island on a street-by-street basis. Town officials say Florida Power and Light is working to restore all power to the island now
Sarasota County: Though the county largely avoided significant damage from Irma, thousands are still without power as of Tuesday afternoon. On the barrier islands and across the county, government officials and residents began trying to return to normal
Sarasota County: Chief of Emergency Management Ed McCrane said at a 12:30 p.m. press conference Monday that the all clear has not been given to residents as government officials work to secure the county. Residents are free to move about the county but are asked to use caution. More than 100 stop lights are without power
Siesta Key: The Sarasota County government is reporting standing water on Beach Road. Drivers are advised to avoid the area if possible
Sarasota County: Hurricane Irma damaged properties just east of I-75 on Fruitville Road in Sarasota. Picture courtesy Sarasota County government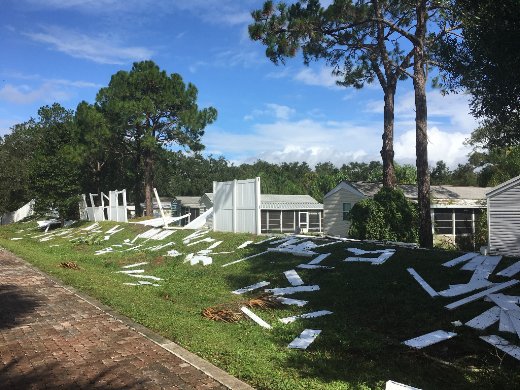 Sarasota and Manatee counties: Emergency Response Teams are working their way through the Sarasota-Bradenton area this morning for a damage assessment while officials urge residents to stay inside
Manatee County: The sheriff's office lifted its curfew at 8:30 a.m. Monday as Hurricane Irma spared the area its worst fury on Sunday night
Sarasota County: There will be no trash collection until at least Wednesday. Officials urge residents to refrain from putting trash and recycling containers at the curb to ease debris removal
Manatee and Sarasota counties: All sheriff's office deputies have been pulled off the roads due to dangerous conditions. Additionally, all shelters in Manatee County have gone into lockdown as of 4:15 p.m. Sunday
Sarasosta County: The county school board announced Sunday that all public schools will be closed on Tuesday, Sept. 12. Florida Gov. Rick Scott had previously ordered all schools to be closed on Monday
Sarasota and Manatee Counties: Florida Power and Light is reporting more than 1,800 people are without power in Sarasota County as of 12 p.m. Sunday. More than 800 people have reported outages in Manatee County as of the same time
All areas: A few hours before Irma is expected to hit southwest Florida, review what to do during and after the storm
Longboat: Law enforcement officers remind residents that didn't evacuate that storm surge of up to 10 feet is expected on the island
Manatee County: A 24-hour curfew comes into effect at 3 p.m. Sunday
Manatee County: Lakewood Ranch High School has opened as a shelter as of 9 a.m. Sunday
Manatee and Sarasota counties: Shelters in both counties continue to fill up late Saturday night. Click here to see the status of Sarasota County shelters or click here for Manatee County
All areas: The evacuation deadline has passed as of 8 p.m. Saturday. All residents are asked to seek shelter immediately. Officials say time is running out to seek shelter and give the latest updates on the timeline for the storm.
Siesta Key: All water services have been shut off to Siesta and Casey keys
East County: The Sunshine Skyway Bridge, connecting St. Petersburg and Bradenton, has been closed ahead of the storm
Siesta Key: Residents continue getting ready to evacuate ahead of Hurricane Irma, which is now projected to cross directly over the area
Manatee County: Several county shelters are already full as of 4 p.m. Saturday. That includes Braden River Middle School, Braden River High School, Kinnan Elementary School, Manatee High School and Oneco Elementary School
Sarasota County: Shelters at Booker High School and Brookside Middle School are both at capacity
Manatee County: Emergency officials have issued a voluntary evacuation for all residents in Zone B, attached here
Lido Key: In the hours before Hurricane Irma is set to strike, the barrier island prepares for the worst and hopes for the best
All regions: National weather service projections from 11 p.m. predict the storm continuing to drift westward, putting Hurricane Irma more directly in the path of Sarasota and Manatee counties
Sarasota: Residents have already started filling in four county shelters, more than 24 hours before the storm is expected to hit the area
Sarasota and Manatee Counties: Both jurisdictions are under hurricane warnings as of 5 p.m. Friday evening, meaning they should expect sustained winds of 74 mph or higher within the next 36 hours.
Sarasota and Manatee counties: All low-lying areas, mobile homes and barrier islands in both counties are under a mandatory evacuation effective 2 p.m. Friday. That includes Longboat, Lido and Siesta keys
Siesta Key: Out-of-Door Academy's upper school students helped fortify the lower school ahead of the storm
East County: Nate's Honor Animal Rescue in Bradenton is loaning out a limited supply of small, medium and large animal crates for evacuees with pets
Siesta Key: Already under a voluntary evacuation order, residents prepare to leave the key
Sarasota County: A voluntary evacuation was issued around 8:30 a.m. Friday for Sarasota County residents in Zone A, which includes low-lying areas, mobile homes and barrier islands including Longboat, Lido and Siesta keys
Sarasota: The Sarasota County Community Foundation opened a Hurricane relief fund yesterday and will open another one today for more general, state-wide relief
All regions: Florida Gov. Rick Scott announced that all state public schools, colleges and universities will be closed on Monday, Sept. 11
Sarasota & Manatee counties: Costal areas of both counties are under a hurricane watch as of late Thursday night
Sarasota: A growing number of local events have been canceled ahead of the storm
Sarasota: If current forecast conditions hold, a voluntary evacuation of Sarasota County's barrier islands, low-lying mainland areas and mobile homes will likely go into effect at 7 a.m. Friday morning
East County: A voluntary evacuation is in effect for low-lying areas
Longboat: Several churches have canceled services ahead of Irma, which is projected to hit the island Sunday morning
Sarasota: The county has declared a state of emergency, allowing it to better mobalize response efforts in case of damage from Irma
East County: Manatee County announces it will open the Fort Hamer Bridge early in order to help with heavy traffic
Longboat: The town is offering free sand bags to residents at the Broadway Street beach access
East County: Irma can't keep away Lakewood Ranch vehicle enthusiasts from the monthly first Wednesday car show
Sarasota: As residents are boarding up windows and waiting in long lines at gas pumps, Sarasota is preparing for Hurricane Irma with the storm's path still uncertain
Sarasota: While the city monitors the advancing storm, officials are prioritizing the most vulnerable areas of Sarasota
East County: Hundreds of Manatee County residents filled bags of sand at Lakewood Ranch Community Park as lines of cars left others waiting for hours
Longboat: While projections on Wednesday afternoon have the storm turning toward the east and away from the island, town leaders encourage all residents to familiarize themselves with evacuation and return plans
East County, Sarasota: Manatee and Sarasota County schools will be closed Friday, Sept. 8
East County: Manatee County offcials are distributing sand bags while residents report long lines and low supplies at area stores
Longboat: Residents wait and watch for Irma's arrival, hoping for the best but preparing for the worst. Longboaters continued storm prep by gasing up and visiting local hardware stores
Sarasota: County staff is pooling resources and monitoring the storm with the path still undetermined. Emergency personnel say for now, the message is to be prepared
Sarasota: All county high school football games have been moved up to Thursday, Sept. 7
Longboat: The town's emergency personnel have begun storm preparations, preparing essential vehicles and equipment in case of an evacuation
Sarasota: The county has canceled all after school activities for Friday, Sept. 8